Adaklu Assembly exceeds revenue target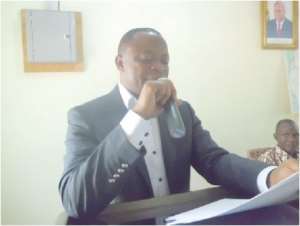 Mr Emmanuel Sky Ganaku
Adaklu- Waya (V/R), Feb 19, GNA - The Adaklu District Assembly last year exceeded its revenue target of 107,724 Ghana cedis by 33.5 per cent.
The total revenue collected last year was 143,809 Ghana cedis.
This was made known by Mr. Emmanuel Sky Ganaku, Adaklu District Chief Executive (DCE) in his sessional address, at the seventh ordinary session of the assembly held at Adaklu Waya on Tuesday.
He said the revenue could increase this year by 20 per cent if some investment opportunities were fully exploited.
Mr Ganaku mentioned some of the investment opportunities as the Adaklu Mountain Resort and Paragliding, an animal market at Waya and a quarry at Wumenu.
On development projects, the DCE said the assembly was collaborating with the Spanish government to provide 11 communities with Small Town Water Systems
He said the Assembly would also provide 100,000 gallon capacity reservoirs to communities in dire need of water.
Mr. Ganaku said last year a number of roads were reshaped, including the Waya-Anfoe, Tsriefe-Waya-Keyime, Akuete-Waya, Waya-Mafi Asiekpe and Torda-Ziope roads.
He said the assembly would soon establish an Education Endowment Fund to help brilliant but needy students in the district.
Mr. Ganaku said sources of funding for the Fund would include 10 per cent of the assembly's Internally Generated Fund, 15 percent of the MPs Common Fund, a levy of 20 Ghana Cedis and 50 Ghana Cedis on resident and non-resident citizens respectively and donations from Non-Governmental Organisations and philanthropists.
He said a number of three and six unit classroom blocks with offices and stores were being constructed to improve their teaching and learning environment.
The DCE said the infant district was faced with office and residential accommodation for staff adding 'some officers refused postings to the district for lack of accommodation'.
Mr. Ganaku said to reverse the trend the Assembly would put up five semi-detached bungalows by the end of the year.
GNA