Massive turnout as Ghana marks 4th National Sanitation Day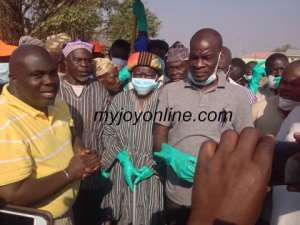 Record number of Ghanaians turned out to clean their communities as the country marked National Sanitation Day today.
The day, which was initiated  by government last year seeks to encourage people to gather and tidy up their communities. 
Minister of Local Government Julius Debrah led the clean up exercise in the Northern Region where thousands of residents poured out in Tamale to clean the city.
Bukom Banku and Ayittey Powers participated in the exercise to whip up support in the Northern Region.
Joy News' Northern Region Correspondent, Martina Bugri, reported Saturday huge number of residents left their homes and wares to clean up their communities.
Local Government Minister, Julius Debrah, has commended Chiefs in the host region for today's exercise for their efforts to make the nationwide cleaning exercise successful.
In the Volta Region, Ivy Setordzi, reported that residents in the Keta Municipality also turned out in their numbers to take part in the monthly exercise.
The story was not different in the Ashanti Region.
However, Kumasi Mayor, Kojo Bonsu, has vowed to lock up shops that remain open while the cleaning exercise is going on.
He was particulary appalled by the unsanitary conditions at the fish market at the Kumasi Central Market.
The National Sanitation Day started on November 1, 2014 as a nationwide cleaning activity to be held simultaneously across the country.
In a strategic move, the exercise is now hosted by one of the 10 regions, which according to the Local Government Ministry is aimed at providing an opportunity for the ministry to know the peculiar environmental challenges in the host regions in order to deal with them adequately.