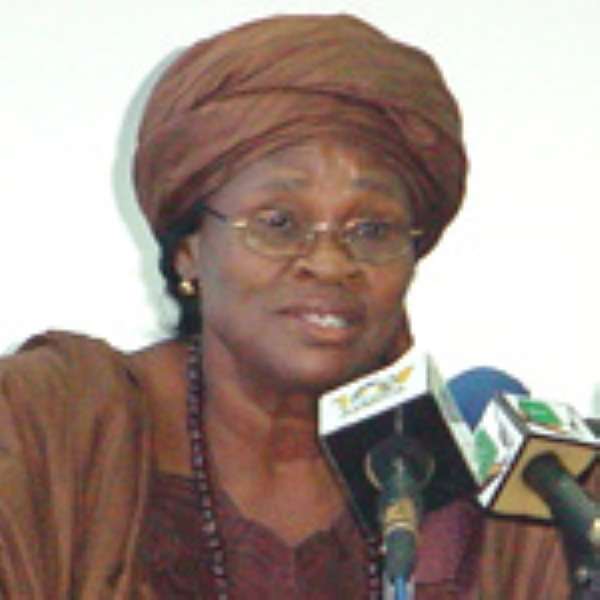 Takoradi, July 24, GNA - Mrs Gladys Asmah, Minister for Women and Children's Affairs, was on Saturday confirmed as the NPP candidate to contest the Takoradi parliamentary seat in the 2004 general election.
All the 78 delegates made up of 68 polling station chairmen and ten constituency executives, endorsed the Minister's candidature at a congress at Takoradi, which was supervised by the Electoral Commission by acclamation.
She was the only candidate who filed her papers at the close nomination.
Mr. Peter Mac-Manu, Western Regional chairman of the party said the congress was a constitutional demand, adding that, the party would work hard to strengthen its internal democracy.
He said victory for the party in the 2004 elections was a forgone conclusion because the electorate were witnesses to the good works of the NPP within the past three years.
Mr. Mac-Manu entreated NPP supporters and sympathisers to remain loyal and vigilant and to be wary of those who would try to sew seed of discord among them.
Mrs Asmah who is the incumbent MP thanked the delegates for giving her another chance to continue her work to improve the lives of the people.
She gave the assurance that she would work even harder to reduce poverty among the people if she won the seat.
Other speakers were Paapa Owusu Ankomah, Attorney General and Minister of Justice, Mr. Joe Baddoe-Ansah, MP for Effia-Kwesimintsim and Mr. Philip Kwesi Nkrumah, Shama Ahanta East Metropolitan Chief Executive.