Nigeria not compromised by foreign troops on its soil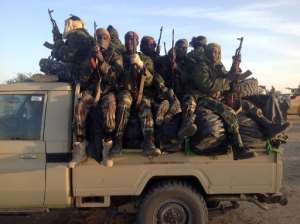 Soldiers of the Chadian army patrol on January 21, 2015, at the border between Nigeria and Cameroon, some 40 km from Maltam, as part of a military contingent against the armed Islamist group Boko Haram. By Ali Kaya (AFP/File)
Abuja (AFP) - Nigeria's military said on Tuesday said the country's sovereignty was not compromised despite the presence of Chadian ground troops in the northeast to fight Boko Haram.
Chadian soldiers crossed the border from northern Cameroon to the Nigerian town of Gamboru on Tuesday after three days of bombardment of Boko Haram positions in a regional fight-back against the Islamists.
They were also deployed near two villages on the Niger side of the border and appeared poised to cross into Nigeria to take the town of Malam Fatori, according to local residents.
But Abuja's defence spokesman Chris Olukolade played down concerns about the presence of a foreign power on Nigerian soil, and claimed the country's troops were leading the offensives.
"Contrary to the impression being pushed in some quarters, it is the Nigerian forces that planned and are driving the present onslaught against terrorists from all fronts in Nigeria, not the Chadian forces, as is being propagated by some media," he said.
Olukolade said there were contingents from Nigeria, Niger, Cameroon and Chad in the operations, which allowed "a massive move against terrorists from all angles".
Joint deployments and patrols have been conducted in Cameroon, Chad and Nigeria, he added.
"Chadians and other are however keying into and working in concert with the overall plan for an all-round move against the terrorists, as agreed," he said.
"Nigeria's territorial integrity remains intact."
Nigeria's military has long been criticised for its inability to end the six-year Boko Haram insurgency, which aims to carve out a hardline Islamic state in the country's far northeast.
Pressure for a more effective multinational force to combat the group's threat to regional security mounted after a deadly January 3 attack on the Nigerian town of Baga.
The African Union last week back a five-nation, 7,500-strong force involving troops from Nigeria, Niger, Chad, Cameroon and Benin and the Chadian military began shelling Gamboru from Cameroon.
Security analysts have suggested that Nigeria's President Goodluck Jonathan may be looking for a pre-election bounce from military successes as he seeks a second term of office on February 14.
But Mark Schroeder, from security and political analysts Stratfor, told AFP this week that allowing foreign forces to operate on Nigerian soil would be counter-productive.
"This is essentially absolving Nigeria of its long-standing geopolitical strength as the region's hegemon able to assist internal and pan-West African security stability," he said.