Chiefs Advised To Stop Illegal Mining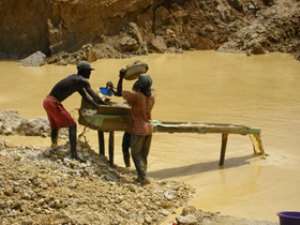 The Ashanti Regional Minister, Hon. Dr. Samuel Sarpong, has advised various Traditional Councils to implement effective measures to control the practice where chiefs engage in activities of illegal mining among other negative behaviours that put the chieftaincy institution into disrepute.
According to him, behaviours of such chiefs particularly those who connive with selfish individuals and groups to engage in illegal mining, arbitrary sale of stool lands, reckless dissipation of resources among others, such tendencies, erode respect in the eyes of the public.
His advice follows questions about the moral integrity of some chiefs who have become too commonly placed in the Galamsey menace.
The minister was speaking at the swearing-in and installation of Mr. Philip Kofi Boateng, as Biribi-Rebahene of Juabeng Traditional council in the Ejisu Juaben Municipality of the Ashanti region. The ceremony also involved thanksgiving to Nana Otuo Siriboe of Juaben at the Juaben Central Palace, and the procession of Nana Bibribi Rebahene through the principal streets of the community.
"We need to ensure judicious use of resources, protection of our natural resources and above all, respect our culture and traditions as a people", the minister expressed.
The ceremony was on the theme: "The Role Of Our Youth Today To Respect Our Chiefs And Elders In Our Towns And Communities," which to the minister was appropriate because it emphasizes the need for due respect to be accorded those in different levels of authority, be it traditional, local and central governance level.
"Our chiefs continue serving as the pivot around which issues concerning development revolves since chiefs play important roles in local governance, and administration, peace building, preservation of culture and traditions among others," the minister noted.
He further indicated that chiefs are the natural leaders of the people and as such, must be given the recognition and respect they deserved.
Such accorded respect to authorities, he said, defended the rules in governing the communities to ensure peace and harmony which are the prerequisites of development in a society.
Nana Biribi Rebahene in his remarks expressed appreciation to his authorities for recognising his effort and honouring him as such.
He called for cooperation from the people particularly the youth, to help enhance the development of the community.
Nana encouraged the youth to show protectiveness in chieftaincy pledging that he is ready to help support government on other developmental projects.
As an immediate measure to fight unemployment rate in the country, he urged the youth to come out with creative innovative ideas to do something as individuals to help support the country's economy, adding that, it is a shared and collective responsibility among all people to join together to develop Ghana.
He also advised the youth to participate in various communal labour in the community to help keep the communities clean and free from diseases.