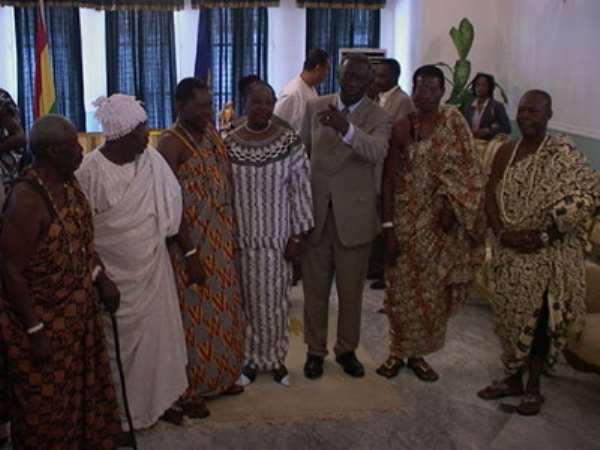 GA-Dangme chiefs have commended President Kufuor and his government for steering the country from the immediate post-election violence and high incidence of armed robbery to relative peace, stability and law and order.
Nii Adote Obuor, the Sempe Mantse and Acting President of the Ga Traditional Council, who led a delegation of Ga-Dangme chiefs and opinion leaders to pay a courtesy call on President Kufuor at the Castle, Osu, yesterday, said when President Kufuor assumed office the situation in the region and the rest of the country was anything but peaceful and secure.
"There was rampant armed robbery, violent attacks on innocent and unprotected citisens, robbery in broad daylight and general indiscipline," he said.
"In fact, the average person did not feel safe, and normal day-to-day activities were adversely affected," he added.
"As a result of your enforcement of law and order, peace and security have returned to this country and everybody is able to go about his or her business in peace and security," he stated.
The visit was also intended to invite the President to attend the special Homowo luncheon and grand durbar of chiefs and people of Ga-Dangme, scheduled for September 4 and 11 respectively.