CORRUPTION IN GHANA; IS IT REAL OR A PERCEPTION?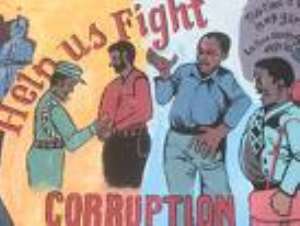 DEFINITION AND FORMS
The World Bank defines corruption as the abuse of public office for private gain. The Transparency International also defines corruption as the abuse of entrusted power for private gain. With these definitions, we can differentiate between what a corrupt act is and what is not.
Basically, corruption can be classified into petty and grand. Petty corruption includes the corrupt acts we experience everyday as Ghanaians; the bribes we pay for admissions in schools, the bribes we pay at the hospital, and the bribes we pay to the police among others. Grand corruption on the other hand involves the gargantuan corrupt acts and normally perpetuated by public officials of which proceeds from the act sometimes don't stay in the country. Ghanaians are quick to point fingers at politicians and government officials without recourse to the petty corrupt acts they engage in. That is HYPOCRICY!!! Corruption in Ghana; is it real or a perception?
Corruption comes in different forms. These are bribery, embezzlement, misappropriation of funds, fraud, and extortion, illegal acquisition of wealth, tax evasion demand and granting of sexual favors among others. Ghanaians in recent times have realized the negative effects of this social canker and calls have been made from different quarters to address it NOW. Calls from civil society organizations, pressure groups, religious leaders, political parties among others. Are Ghanaians just making a lot of noise about corruption tarnishing our image globally or it has reached its apex and needs to be talked about?
EFFECTS OF CORRUPTION
The effect of corruption has many dimensions related to political, economic, social and environmental effects. In political sphere, corruption impedes democracy and the rule of law. In a democratic system, public institutions and offices may lose their legitimacy when they misuse their power for private gain. What happens if the police responsible for maintaining law and order compromise?
It may also result in negative consequences such as encoring cynicism and reducing interest of political instability, reducing political competition, reducing the transparency of political decision making, distorting political developments and sustaining political activity based on patronage, clientelism and money.
The economic effects of corruption includes the depletion of national wealth, increased costs of goods and services, the funneling of scarce public resources to uneconomic high profile projects at the expense of the much needed projects such as schools, hospitals, roads, supply of potable water. Large scale corruption hurts the economy and impoverishes entire population. I can't discuss the current economic challenges without mentioning corruption and its negative impacts on the macro-economy.
In social sphere, corruption discourages people to work together for the common good. Frustration and general apathy among the public result in a weak civil society. It results in social inequality and widened gap between the rich and poor, civil strife and insecurity. Are these scenarios familiar in Ghana? Indeed the fight against corruption must be fought by all.
DEVELOPMENTS
Corruption has been with Ghanaians since independence. Governments have tried to nib this social canker into the bud but are these actions enough?
Former Presidents Kufour said "corruption is as old as Adam and Eve" The meaning given to this quote was that, Adam was corrupted by Eve and Eve was corrupted by the serpent. Is that enough reason to say that nothing can be done about it because it existed before we were born? Last week, I was sad to hear on a local radio station that, a government official in response to a question "What is your take on the current corruption issues" He quoted Ex-President Kufour and threw his hands in despair concerning this social canker. OH GHANA!!!
Sometimes I put myself in the shoes of leadership especially the President; How does he feel about the numerous scandals in this country especially ones involving his officials? President Mahama wrote on social media "corruption amounts to mass murder because it deprives government of resources to address the basic needs of people" In the International Criminal Court, anybody found guilty of mass murder is punished severely so the question is; what is the President doing about those currently engaged in "Mass Murder"? The fight against corruption is not in words but action. Indeed Ghana is heading towards danger if this social canker is not dealt with properly. A country of about twenty-five million (25m), what are we doing to our own people?
REFLECTIONS
What values are we taught in the family system?
What values are we taught in our educational system?
What values are exhibited in public and private sectors?
What values are we taught when we go to the church or mosque?
What has happened to the sense of patriotism and love for nation?
It is said, education without morality breeds devils but education with morality breeds responsible citizens. Again, no religion in this world preaches selfishness; So why corruption?
LAWS AND INSTITUTIONS
An institution is any persistent structure or mechanism of social order governing the behavior of a set of individuals within a given community. Institutions are also a central concern for law, the formal mechanism for political rule making and enforcement. What has happened to the institutions like Commission for Human Rights and Administrative Justice (CHRAJ), Economic and Organised Crime Office (EOCO), Ghana Police Service, Parliament among others? I commend their efforts but the fact is; more needs to be done.
When it comes to law, Ghana has "beautiful" laws to combat corruption; This includes Public Procurement Laws, Financial Administration Act, Audit Service Act, Whistle Blower Act etc. The laws are backing but not biting.
In conclusion, this is not the time to apportion blames. It is the time for work and talk less. The fight against corruption is NOW or never. The Holy Bible says in
Psalm 119:1
Joyful are people of integrity who follow the instruction of the Lord.
AMOAH-DARKWAH EMMANUEL Ch.E, CEPA
INTEGRITY AMBASSADOR