Admit we are in crisis- Mpiani tells government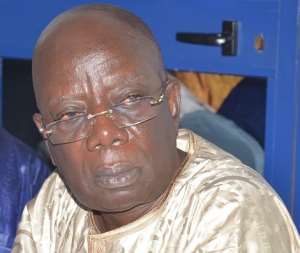 Former Chief of Staff in the John Agyekum Kufuor administration, Kwadwo Mpiani is asking the John Mahama administration to openly admit the nation is in crisis, as a first step to resolving the difficulties the country faces.
Mr. Mpiani believes government's continuous denial of the huge scale of the problem is not good enough. 
"They are taking it that we are facing challenges. Fine. But let's be honest with ourselves and say we have crisis. So how do we solve the crisis? You see, when you are able to accept the real conditions in which you are, then it becomes less difficult for you to find solutions to those problems," he told Joy News Joseph Opoku Gakpo in an interview. 
The nation has been plagued with various challenges in recent times including the depreciation of the cedi against major currencies, power cuts, increases in fuel, electricity and water prices, as well as government's inability to pay statutory funds to agencies including the Ghana Education Trust Fund (GETFund) and National Health Insurance Authority (NHIA). 
Deputy Information Minister Felix Kwakye Ofosu on Tuesday addressed a news conference at which he accused some Ghanaians of propagating doom, gloom, despondency and hopelessness. 
He went on to enumerate a tall list of government achievements in the areas of education, health, among others, insisting progress is being made in dealing with the problems. 
But Mr. Mpiani is concerned, it is common for persons working with a leader to mask the truth of the real challenges of the country from him. 
He says, this is a general problem of the Ghanaian society, and he would not be surprised if President Mahama is facing a similar challenge. 
"What I have come to realize is that, if you are not careful, the Ghanaian would make you feel like you are doing well when you are not", he told Gakpo. 
"Maybe all of us as a nation, we need education, to enable us say it as it is. When we do that, we will be helping the leader and helping ourselves", he added. 
 
[Posted by JTM]