Heavy rains cause destruction in Sekondi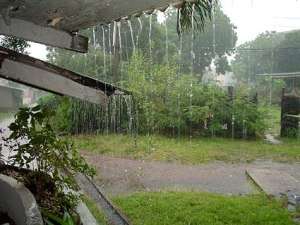 Rainfall Pix New

Takoradi, July 5, GNA - The Cat and Dog rain that started in the early hours of Friday morning has caused lots of havoc within the Sekondi/Takoradi metropolitan assembly.
A vi sit to some places after the rains showed massive destruction, over flooded gutters and drains with the waters splitting it debris in homes and places where water ways had been blocked by human activities.
At the East Tanokrom area, many houses were filled to the brim and people had to be rescued by neighbours from their 'dying homes'. Walls built as security also got broken.
At the Vodafone area near the Pa Grant Round about the running water trapped a lot of cars and slowed down vehicular movements.
The star of the sea cathedral road was filled with water as well as the Pa Grant roundabout a situation that questions the engineering of the road about.
At the Takoradi Poly area, the mangroves and wetlands that supported aquatic lives, this time had enough water to share with passer-bys and vehicles.
Places such as Bakano, Komfo Ase, Asafo street and RCC road at Sekondi about not spared the devastation by the rain.
The situation at Adentam, Mpatado, Anaji, Fijai, Kansawaroando and Kwesimintsim were not different as people were seen sweeping water from their homes and salvaging their belongings from the rains.
GNA