Sekondi-Takoradi Floods Again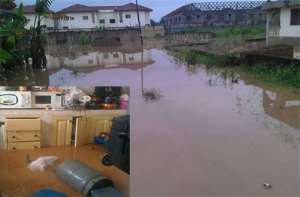 One of the flooded areas. INSET: Flooded kitchen
The Sekondi-Takoradi metropolis was submerged on Monday after more than six hours of heavy downpour.
Property worth millions of Ghana cedis were lost, while a school pupil nearly drowned at Bankyease near Takoradi.
The flood water forced its way into residential apartments, mosques, churches, schools and commercial centres, causing destruction.
The rain, which subsided at about 12 noon, saw places such as Anaji, Adu and Ntankoful, getting submerged for the very first time.
Some major streets at the Takoradi Market Circle were also submerged and as a result most shops and stores were closed.
At Kwesimintsim, Bankyease and Ntankoful, residents had to move out of their rooms which had been taken over by the flood.
DAILY GUIDE learnt that some residents of the most affected areas had to move to safer ground or climb storey buildings.
The storm drains constructed at Bankyease and Kwesimintsim overflowed with water which ran into the rooms of residents.
On the Sekondi-Takoradi Highway, the premises of the Opportunities Industrialisation Centre (OIC), a vocational training institute, was flooded.
The area from the Nkroful Junction towards Apremdo was also completely flooded.
Most of the residents attributed the problem to the many buildings and other structures which had allegedly been constructed on water courses.
From Emmanuel Opoku, Takoradi