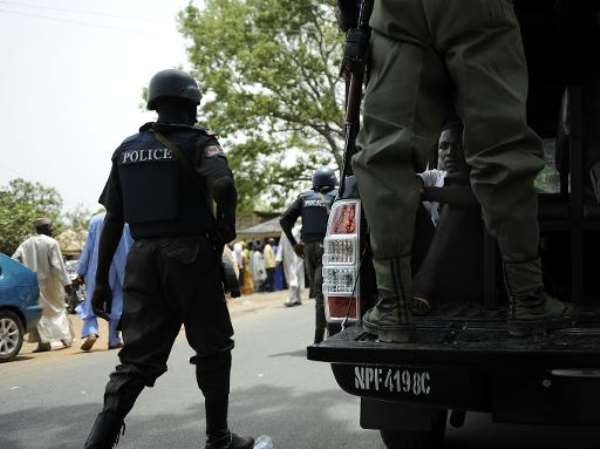 Nigerian police detain suspicious people near a polling station during a security operation to stave ballot box-snatching in Bauchi, Nigeria on April 28, 2011. By Tony Karumba (AFP/File)
Lagos (AFP) - Nigeria has trained 167,000 police officers to manage an election next year in which President Goodluck Jonathan is widely expected to seek another term, an official said on Saturday.
In an effort to ensure a fair and peaceful vote in a country with a chequered electoral past, authorities have been trained "on various aspects of policing elections," national police spokesman Frank Mba told AFP.
He said Nigeria hopes to train between 350,000 and 370,000 police officers ahead of the poll.
Nigeria has had a history of electoral malpractice since gaining independence from Britain in 1960.
In 1993, the military under General Ibrahim Babangida annulled the country's presidential election, widely believed to be the fairest and freest so far, plunging the nation into a bloody political crisis.
In 2011, Jonathan's disputed re-election led to sectarian violence in which several hundred people died.
But Mba expressed confidence that greater preparedness on the part of police will prevent trouble this time around.
Jonathan has so far refused to declare his plans but is widely expected to seek re-election, despite mounting pressure within his own party to stand aside.
He has been accused of breaking an unwritten rule in the PDP which calls for the presidency to rotate between Christians from the south, like Jonathan, and Muslims from the north.
- A history of violence -
Mba said a governorship election in southwest Ekiti state on Saturday passed without any major incidents, in part due to an increased police presence.
Police threw a security cordon around the state ahead of Saturday's election, seen as a crucial test for Jonathan's People's Democratic Party (PDP) amid waning national support, restricting movement and deploying hundreds of riot squads to curb violence.
The state has a history of election-linked violence and last week a party supporter was killed after a political rally in the state, while dozens of others were injured.
Scores of people were killed and hundreds of houses destroyed in the region in 1983, when riots broke out following a disputed gubernatorial election in what was then Ondo state.
The spokesman of the state-run election agency in the state, Taiwo Gbadegesin, said in a televised interview on Saturday that "so far we have not recorded any hitch or bad report".
Ekiti Governor John Kayode Fayemi of the All Progressives Congress (APC), who is seeking re-election, is being challenged by former governor Ayo Fayose, the PDP candidate.
International observers, including from the United States and Britain, monitored the vote.
Africa's most populous country and biggest economy will go to the polls in February 2015 to elect a new president and parliament, overshadowed by a five-year insurgency by Boko Haram Islamists who have killed thousands and whose abduction of more than 200 schoolgirls sparked global outrage.