NADMO supports Ada farmers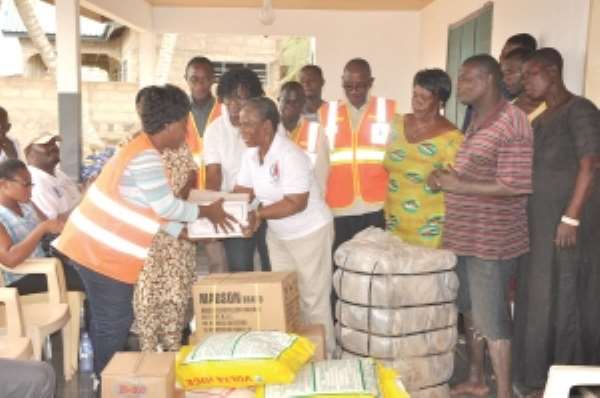 The National Disaster Management Organisation (NADMO) last Thursday presented relief items to  farmers at Ada.
The items  included 19 bags of rice, detergents, bales of  used clothing, provisions, mosquito coils and repellents  and 18 boxes of cooking oil.
The items were to motivate the farmers to  complete the irrigation project initiated by the Member of Parliament for  the Ada constituency, Mrs Comfort Doye Cudjoe Ghansah.
The irrigation project, according to the MP, would create jobs for the people in the community and also pave the way for the farmers to have access to water for their farms.
The Chairman of the National Relief and Reconstruction Committee of NADMO, Dr Cecilia Bentsi, encouraged the farmers to continue working hard to complete the irrigation project.
She also commended the MP  for her support and dedication towards improving the living standards of the people in the community.
Mrs Cudjoe Ghansah, who is also the Minister  of State at  the office of the President, said due to lack of jobs in the community, even children were being sent away to work at Akosombo to earn a living.
She further stated that after the completion of the project,  these children "would be brought back home to work with their parents on their farms".
She said a homecoming ceremony would be held in the community to rescue the children from the hands of their masters at Akosombo.
Mrs Ghansah appealed to other organisations and stakeholders to come out in their numbers to  support and contribute to making the irrigation project a success and useful to  the community.