USAID, ECOWAS officials brainstorm on food security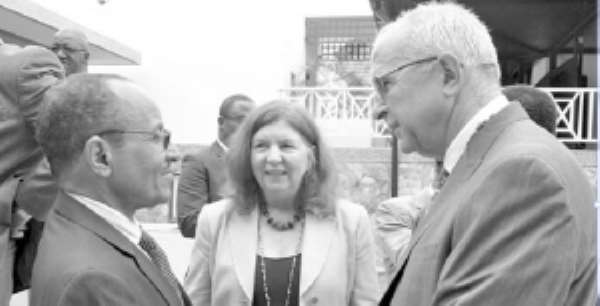 A high-powered meeting among West African countries under the aegis of the United States Agency for International Development (USAID) has been held to brainstorm on how to boost food security in the sub-region.
The three-day forum, which was held in Accra, was on the theme, "Transforming Agriculture and Food Security through Regional and National Co-operation and Integration."
The seminar brought together representatives of the Economic Community of West African States (ECOWAS), officials from the USAID and some government officials of countries benefitting from USAID agricultural projects. 
  Food security  
Addressing the function, the ECOWAS Commissioner for Agriculture, Environment and Water, Mr Lapadini Marc Atouga, expressed concern over the lack of free flow of goods and services among member states within the sub-region.
He admitted that even though leaders of member states were aware of the problem they had refused to rectify it
That, he said, was inappropriate, and added that farmers produced in large quantities but had nowhere to transport them.
  Market expansion
"We need not only to produce enough. We need to address the problem of the market in the sub-region and ensure that there is free movement of goods to member states," Mr Atouga said.
According to him, there are too many constraints on the borders of member states, which usually restrict free flow of goods and services. 
"The only way to encourage farmers to produce more is to assure them of availability of markets," he said. 
Mr Atouga admitted that there were various concerns by member states regarding movement of weapons by some unscrupulous persons across the borders, and added that strict measures could be put in place to halt the threat posed by these illegal arms.   
"Why should we punish the whole sub-region because of the bad practices of a few persons to restrict free movement of goods on the West African corridor?" he asked.
  Call on citizens
Mr Atouga called on activists within the sub-region to hold their leaders accountable for their inability to institute measures to ensure food security, adding that, "you must not allow politicians to play with our food security."
  Purpose of gathering
Stating the main reason for the function, the USAID Regional Agriculture Office Director, Ms Candace Buzzard, said the forum was to deepen collaboration among West African states and organisations.
She noted that it would also deepen bilateral missions and identify opportunities to increase co-ordination among USAID-West Africa implementing partners.