NPP's National Elections Committee Responds To Paul Afoko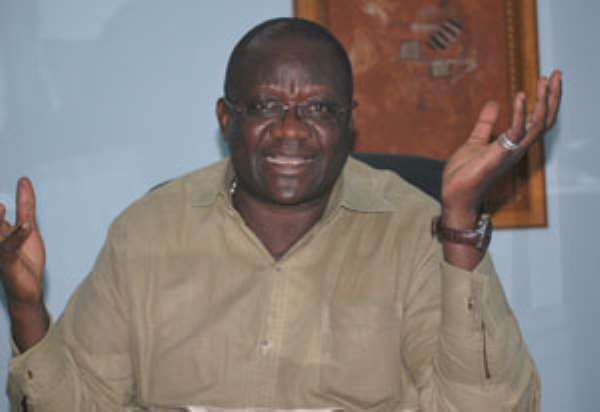 Members of the National Elections Committee of the New Patriotic Party say they are determined to execute their mandate 'without fear, favour, affection or ill-will'.
The committee was responding to a letter by contender of the party's national chairmanship slot, Paul Afoko in which he made certain demands.
Chairman of National Elections Committee, K.T. Tedam, said in a statement:  'We as National Elections Committee members in the circumstances deserve praise and not condemnation, vilification and unwarranted attacks on our integrity.'
Below is the Committee's response
RE: My Final Letter on Upcoming Internal Elections
The National Elections Committee has received your letter with the above caption in which you raised some issues pertaining to the internal elections scheduled for Saturday 12th April 2014. Your claim that you have written three (3) previous letters which were neither acknowledged nor responded to by the committee is completely false.
Your first letter to the committee immediately after meeting the vetting committee on the 13th February 2014 was subsequently withdrawn by you almost a month later and you rendered an apology to the committee over the contents of that letter. Your second letter was one requesting for albums etc, which have all been supplied to you. This is your third letter which is being responded to.
Your concern that contestants ought to have been allowed to make inputs into 'Rules for the Internal Election' is untenable. Over the years it has been the exclusive mandate of the National Elections Committee to make Rules or Guidelines for such elections.
There is no provision anywhere in the constitution of the NPP which directs that such rules be made with input from aspirants or contestants.
It ought to be stressed that at the time the National Elections Committee put out the Rules, we did not even know who would be contestants and would have been well-nigh impossible to have consulted such non-existent aspirants or contestants.
As you are no doubt aware, it is officers from the Electoral Commission of Ghana who would actually conduct the Internal Elections under our supervision. We as National Elections Committee liaise and work closely with the Electoral Commission. Though we would have wished to have a separate polling station 'for proxy votes' the Electoral Commission officers have ruled that out on the grounds that the number of proxy votes does not warrant the setting up of a separate polling station for that purpose only.
On the issue of which members of the  National Executive Committee (NEC) are entitled to attend the conference and vote, we think your interpretation of Article 9c (2)(ii) is wrong. It is our position that ex-officio members of anybody usually do not have the right to vote at meetings of those bodies but they remain full members for other purposes. Thus since those members are delegates for any National Delegates Conference, they are entitled to attend such delegates conference and to take part in whatever is the agenda including the casting of votes when it is a Conference at which Elections are to be held.
Please note that the National Delegates Conference is not a meeting of National Executive Committee.
Where the National Elections Committee is aware of injunction orders restraining some constituencies from taking part in elections as in Kumawu, Juaben, Manhyia North and krowor, delegates from those constituencies will not be permitted to vote until otherwise stated by those courts and the committee does not need the prompting of a contestant on this.
Also the Constitutional provision: Article 9 section A sub section 2(ii) g that allows One (1) Tescon representative from each recognized tertiary institution in the country, for the avoidance of doubt has not changed and remains the same.
We will like to place on record that we as democrats initiated a joint meeting of our committee and contestants at which we took on board concerns of contestants leading to the second batch of Election Rules. It is therefore unfair to suggest that the National Elections Committee made the Rules of Elections without the inputs of contestants. Though we were not obliged so to do, we extended that privilege to the contestants at a meeting where you were personally present.
We as National Elections Committee members in the circumstances deserve praise and not condemnation, vilification and unwarranted attacks on our integrity. We remain focused and intend to execute our mandate without fear, favour, affection or ill-will.
 
…Signed…..
C.K TEDAM
CHAIRMAN OF NATIONAL ELECTIONS COMMITTEE