US Supported Health Projects Record Achievements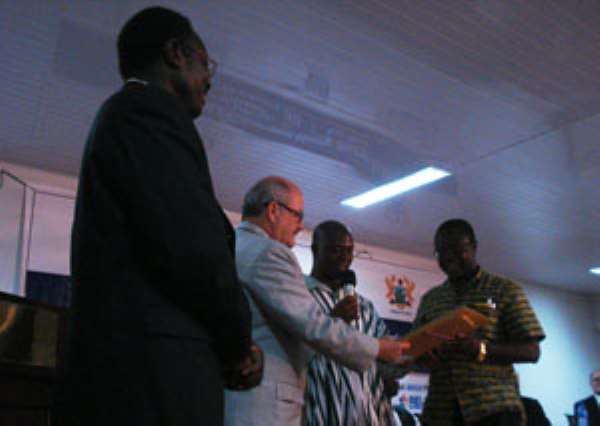 By Jamila Akweley Okertchiri
USAID Mission Director, James Bevere and Dr Ebenezar Appiah-Denkyirah, Director General of the Ghana Health Service giving a certificate of appreciation to one of the stakeholders at the event
Three United States Agency for International Development's (USAID) supported health projects in the country have recorded significant milestones in the improvement of quality healthcare in Ghana.
The projects, Behaviour Change Support (BCS) Project, Focus Region Health Project (FRHP's) and the Ghana Water, Sanitation and Hygiene (WASH) Project have all helped to improve the health status of one in every three Ghanaian within its four year implementation period.
Working in the Central, Western and Greater Accra regions in close collaboration with the Ghana Health Service, FRHP's for instance succeeded in strengthening the health system and efforts to build ownership and leadership in the health system.
Speaking at the joint end of project dissemination conference in Accra, USAID Mission Director, James Bevere, said through FRHP's efforts, births attended by skilled providers have increased from 69 percent at baseline to 80 percent.
Mr Bevere noted that the BCS' project, under the umbrella of the unifying 'Good life. Live It Well' initiative, also recorded an increase in modern contraceptive usage, sale of zinc tablet for treating diarrhoea in children  and pregnant women using malaria treated mosquito nets.
He said sanitation under the WASH project have also been enhanced with 154 boreholes being constructed to provide safe water for rural and peri-urban communities.
Expressing satisfaction at the achievements of the projects, Mr Bevere observed that USAID would continue to support Ghana in new projects to continue with what has already been started.
US Ambassador to Ghana, Gene Cretz, in his remarks advocated the need for strong partnerships such as that of the US and Ghana in providing healthcare services to people.
He, however, noted that the work should not end when the projects are finally completed, but encouraged stakeholders to pursue efforts of improving the health status of Ghanaians.
'It is a welcome relief to know that aid programmes of the US are not only saving but changing lives,' he said.