Teenager arrested for stealing car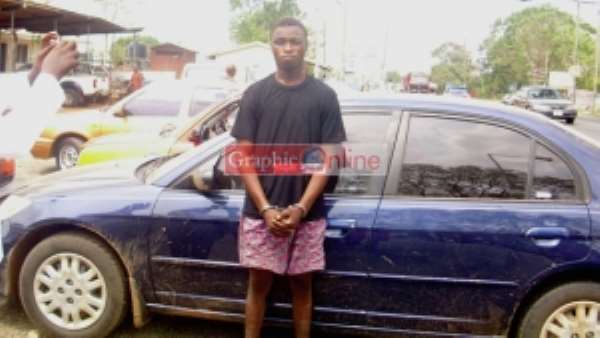 A 19-year-old man has been arrested by the Kwabenya Police for allegedly stealing an unregistered Honda Civic saloon car.
Ibrahim Kasim, a washing bay attendant, absconded with the car belonging to Mr Frank Atakora, who had sent it to be washed. 
He had demanded the keys to the car from Mr Atakora, with the excuse of parking it properly. Suspect Arrested
Kasim was arrested  at Tsopoli, near Aflao and on the Accra-Aflao road, last Sunday by a police patrol team which had been alerted by the Kwabenya Police.
The Kwabenya District Police Commander, Superintendent Victoria Yamoah, speaking to the Daily Graphic in Accra yesterday, said the Kwabenya Police received a complaint from Mr Atakora that his car had been stolen.
According to her, minutes after Mr Atakora had handed over the ignition keys to Kasim, he saw Kasim driving out of the premises in the car and so he complained to the supervisor of the washing bay, enquiring whether Kasim was driving out to buy detergent to wash the car.
"The supervisor said that could not be possible, following which the owner of the car and workers at the washing bay hired a cab to chase Kasim but they could not get him," she added. Police Efforts 
Supt Yamoah said Mr Atakora reported the incident to the Kwabenya Police.
"I immediately alerted all patrol teams and police border checkpoints to be on the lookout for the car. Fortunately, one of the patrol teams intercepted the car,  on the Accra-Aflao road heading towards Aflao," she added.
According to her, the patrol team handed Kasim and the vehicle over to the police at the Tsopoli Police Barrier and informed the Kwabenya Police, who went for him and the car.
On his arrest, Supt Yamoah said, the suspect, who had been employed for barely a month, claimed that while he was trying to park the car, the brakes failed, for which reason he could not control it but had to drive on until he was able to stop it without crashing it. Police Visibility and Patrol 
Supt Yamoah said the introduction of the police visibility system and patrol by the Inspector-General of Police (IGP) had contributed a lot to police efforts.
She said currently policemen could be found on duty at all time nationwide, making it easier now to arrest suspects, regardless of their geographical location and the time.
She advised drivers to hand over their car keys to only the supervisors of washing bays or those in charge when they sent their cars to be cleaned.