19 Benefit from Anlo Educational Trust Fund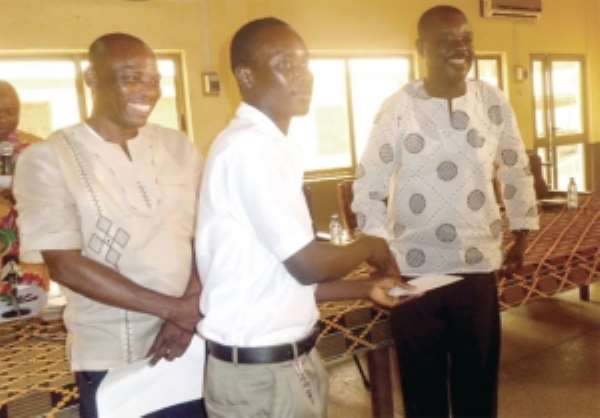 Nineteen students in the Keta municipality have been awarded scholarships under the Anlo Educational Trust Fund to further their three-year education in second cycle institutions.
The scholarship will cover their school fees and basic needs while in school but PTA dues are paid by parents.
The fund, which was set up three years ago, has 24 students on its scholarship list.
Speaking at the presentation ceremony, the chairman of the board of trustees of the fund, Prof. Victor Patrick Yao Gadzekpo, announced that this year, 37 students applied for the scholarship out of which 19 were selected.
As a measure to ensure that the students excel in their academic activities, the 19 beneficiaries were made to sign an undertaking to perform excellently in their examinations. 
Anyone who fails to do so will have his or her scholarship withdrawn. Poor performance of some students 
Prof. Gadzekpo expressed worry about the poor performance of some students in the Basic Education Certificate Examination (BECE) and attributed it to the neglect of parents to support their children's education.
"We, as a fund, are not very happy about the performance. It is something we have to think about to see how we can help our students improve their performance," he stated.
The fund, he said, would soon cover students interested in vocational training.
He asked parents, citizens of Anlo and other Ghanaians to contribute generously to the fund to assist brilliant students to further their education.
He thanked donors such as the Ghana Commercial Bank, Bank of Africa, and Stanbic Bank for their immense contribution to the sustainability of the fund.
The Keta Municipal Chief Executive, Mr Sylvester Tornyeavah, who is one of the initiators of the fund, stated that the fund intended to sponsor at least a medical doctor  and pharmacists every year because health facilities in the area lacked specialists. Sponsoring students in colleges of education 
"From next year, 20 students will be sponsored in colleges of education and we hope in 10 years, we would have 200 teachers to man our educational system," he said.
Mr Agbotadua Boni, a representative of the Awomefia, Togbi Sri III, commended the beneficiaries for striving hard to be selected.
He appealed to parents to invest in their children's education, which would not benefit only the parents but also the municipality and the country at large.
Raphael Avevor Jnr, a first-year student of the Anlo Senior High School, on behalf of the other beneficiaries, commended the board of trustees for the kind gesture, which, he said, would afford them the opportunity to better their lives through education, and promised not to disappoint their benefactors.