Ghana won't rush to sign Economic Partnership Agreements - Haruna Iddrisu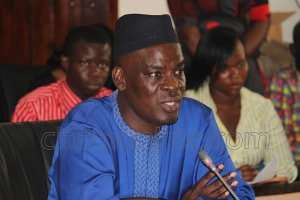 With three years to go for the deadline for Ghana to sign onto the Economic Partnership Agreement, the Trade Minister designate, Haruna Iddrisu has stated that Ghana will not rush to sign.
If Ghana signs onto the agreement, government will be committed to an overall trade and development policy which some analysts believe is negative to the overall interest of Ghana.
Among other things, the liberalization of trade being sought by the EU with ECOWAS means that 80% of goods from the EU would come to the region tariff-free which could have serious implications for local businesses and revenue generation for Ghana.
Mr. Iddrisu stated that "at the end of December 2012, the negotiations remained uncompleted; Ghana's own is supposed to be driven largely at the ECOWAS Level including, Ivory Coast, Nigeria and Ghana to sign onto the EPA; my assurance to the Ghanaian people is that Ghana will not sign onto any agreement that will be inimical to our international economic interests and more importantly to the economic interest of Ghana; we need to protect our exports."
There have been several calls on government not to sign onto the Economic Partnership Agreements as the move could be an economic blunder that threatens the economic stability of Ghanaian exporters.
Haruna Iddrisu further pledged to take a collective decision on Ghana's stance on the EPA's with Ivory Coast and Nigeria as well.
He said: "Ghana exports at least 40% of many of our agricultural related produce goes to the European Union; that means that some jobs are created, as well some revenues to earn. What I will do is to have a better appreciation of what will inform Ghana's decision and then collaborate with my Ivorian and Nigerian counterparts in taking a decision on the Economic Partnership Agreements."
By: Lorrencia Nkrumah/citifmonline.com/Ghana