Ghana Infrastructure Fund: Is It Another 'Create, Loot And Share'?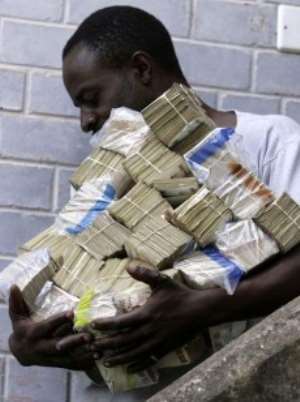 The government of Ghana in the 2014 budget statement and economic policy read to parliament on Tuesday, 19th November, 2013 announced the creation of a new infrastructure fund. This newly created fund according to the minister of finance, Hon. Seth Terkper, will mainly be used to address the huge infrastructure deficit that has bedeviled economic growth and development.
According to the Minister, the fund will be financed by the new 2.5% increase in value added tax (VAT) among other sources. The million dollar question is; is this another 'create, loot and share fund'? The late former President Professor John Evans Atta-Mills established the Savannah Accelerated Development Authority (SADA) to bridge the gap between basically northern Ghana and the south.
The Savannah Accelerated Development Authority (SADA) is an independent agency for coordinating a comprehensive development agenda for the northern Savannah ecological zone in Ghana.
The area comprises the three Northern regions of Ghana namely, Upper East, Upper West and the Northern Region, and stretches to include districts contiguous to the Northern region that are located north of Brong-Ahafo and north of the Volta region. SADA constitutes Ghana's response to effects of climate change associated with floods and drought.
The agency's main thrust is to promote sustainable development using the notion of a forested and green north to catalyze climate change reversal and improve livelihoods of the most vulnerable citizens in the area. The strategy being developed will provide opportunities for poor peasants, especially women, to own assets in economic stress, sustain their food crop production and protect the fragile eco-system of the northern Savannah by managing the flood-prone river-beds better.
But to the country's dismay, corruption scandal of over 45 million cedis was found early this year in that authority. The authority's profligate spending in acquisition of internet, publication of documents, purchase of vehicles among others clearly shows that, due diligence was not done. Again, SADA's involvement in Asongtaaba guinea fowl project and ACI afforestation Project shows that, the right procedures were not followed and that monies allocated by government did not achieve their aims.
Consequently, another mind boggling issue of corruption was revealed after Joy Fm's Manasseh Azure reported on GYEEDA. The rising youth unemployment is one of the deepest economic and social problems facing economies the world over, increasingly considered an 'international time-bomb' for both developed and developing nations alike. Youth unemployment currently stands at over 75 million people worldwide and young people are three times more likely to be unemployed than adults, according to data from the International Labour Organization (ILO).
This story is not different in Ghana, a country that has no proper data on unemployment data especially graduate and youth unemployment. The World Bank country statistics for youth unemployment in Ghana states that, 65% of the youth are unemployed. In government's quest to solve this problem, former president John Agyekum Kuffour in October 2006, established National Youth Employment Programme (NYEP) with its aim of empowering Ghanaian youth so they could add positively to socio-economic and sustainable development of the nation. NYEP was later turned to Ghana Youth Employment and Entrepreneurial Development Agency (GYEEDA) to add more modules to the programme. According to the GYEEDA report, an amount of 200 million cedis was found to have been embezzled by officials. The question is, is government committed to ensuring proper monitoring and evaluation or only interested in allocating funds?
Recently, Ghana Revenue Authority (GRA) contracted Subah Infosolutions; an IT company to monitor and verify the volume of calls generated by telecom companies for tax purposes. But to our surprise once again, an amount of 144 million cedis was found to have been paid to this IT Company for virtually no work done. As government has created a ministry in charge of public private partnership to foster growth and development, there is also a growing phenomenon thus 'public private looting' .This is where individuals and private companies collaborate with public officials and institutions to dupe the state of our hard earned revenues. The sad aspect is, government's clear intention of bringing hope to less privileged in society is never achieved.
This 'public private looting' must stop!!! It seems that, government is interested in collecting monies from citizens but not interested in proper accountability to the public. Which institutions are responsible for monitoring and evaluation in this country? I call on the National Development Planning Authority, Parliament, Public Accounts Committee, Audit service etc to rise up to the occasion to save our motherland. Corruption has immense negative consequences on our nation and you and I have a role to play in ridding our nation off this social canker. Note that, the fight against corruption starts from YOU!!!
Will the new Ghana Infrastructure Fund (GIF) serve its purpose? Time will surely tell…
AMOAH-DARKWAH EMMANUEL

INTEGRITY AMBASSADOR

[email protected]

+233245683297