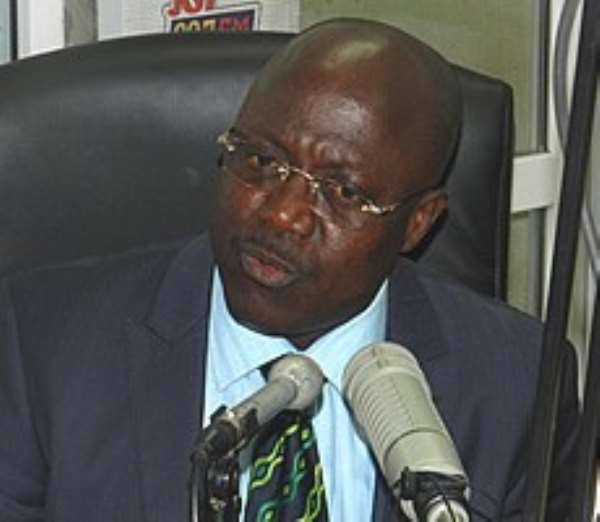 Criminologist, Professor Ken Attafuah has indicated that corporate crime and corruption pose more threats to the economy than armed robbery and all street crimes combined.
"For as a criminologist, I know all too well, that even with armed robbery, as heinous as it is, the armed robbers collectively in one year, do less harm than one multinational or corporate entity...", Professor Attafuah.
He, therefore, called on all Ghanaians to rally together and without malice, fight any business or corporate entity that falls foul of the law.
"We must fight it [corporate crime] with fervency and zeal. But we must do so within the boundaries of the law; with principle and decency. We must hate and repudiate wrong doing but bear no malice towards anyone", he insisted.
Professor Attafuah was speaking at Tuesday night at a lecture organized by the Friedrich Naumann Foundation to mark its 50th Anniversary of International operations.
He advocated the prosecution of Tobinco, Ghanaian pharmaceutical giant, currently at the centre of alleged fake drug importation controversy if indeed it has contravened the laws of the land.
According to him, the beleaguered pharmaceutical company should be thoroughly investigated and appropriate steps taken within the tenets of the law to bring the issue to a close.
"I would like to see Tobinco, Ghanaian pharmaceutical giant currently at the centre of alleged fake drug importation controversy scrupulously investigated and professionally prosecuted if indeed there is a reasonable basis in law for such actions", Professor Attafuah suggested.
Meanwhile, speaking of corruption, Majority Leader, Benjamin Kumbuor is asking his colleagues in Parliament to take a lead role in fighting corruption.
The Majority Leader made the call earlier today as Members of Parliament (MPs) wrap up the debate on the 2014 Budget.
But Parliamentary correspondent, Elton John Brobbey reported that the debate was laced with some controversies as there were some trading of words between members of the minority and majority sides of the House.
The controversy came about when the majority leader, contributing to the debate on the budget, called on the house to lead the way in fighting corruption.
He cautioned Members of the House against holding placards and demonstrating on the floor of Parliament.
The Member of Parliament (MP) for Adansi Asokwa, KT Hammond, took a personal offence and described the comments of the majority leader as " foolish, useless, nonsense".
This brought members on both sides of the house on their feet, shouting at each other. After about five minutes of a standoff, the speaker asked the majority leader to withdraw the statement, which he did and KT Hammond also offered an apology.
The speaker of parliament, Edward Doe Adjaho has subsequently directed that the comments be expunged from the records.