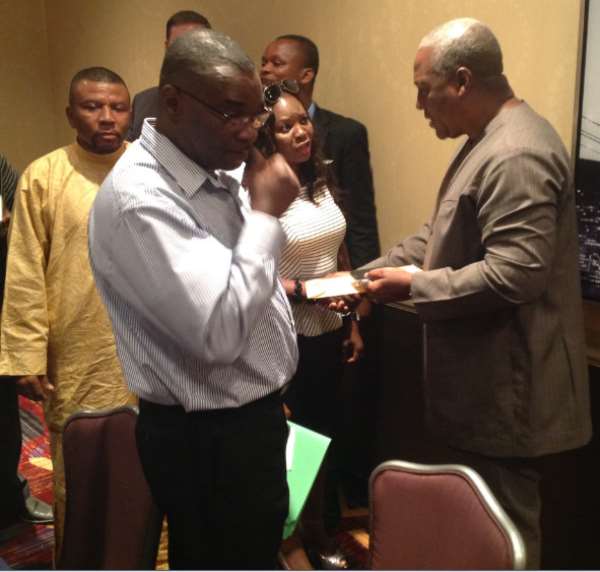 The National Women Organizer of the NDC USA, Ms Janet A. Wilson, has lauded His Excellency President John Dramani Mahama for his decision to sacrifice and urging his ministers and appointees to also sacrifice their 10% salaries, which is unprecedented in our political history, as an austerity measure to help mitigate the effect of the severe economic hardship in the country.

She said, this, coupled with the current electricity tariff reduction show that, the President is listening and sympathizing with the plight of the ordinary Ghanaians and this indicates a sign of his good leadership.
"I wonder why these NPP gurus are describing this measure as a political gimmick and for one of them to even suggest 40% salary reduction. But Ghanaians have no short memories, when the NPP was in power from 2001 to 2008 and our economy was in worse state than it is today, have they sacrificed even one percent of their salaries? They rather looted and depleted the economy so severely and the spillover effect of their heavy financial malfeasance is what we are facing currently. " she stated.
The women organizer made these remarks this week, after a periodic conference meeting of the NDC USA national executives, which focuses on the party affairs in Ghana and in the United States.
Touching on corruption, Ms Wilson, who is also the current chairperson of the State of Dallas Texas branch of the NDC (out of 35 branches in the United Sates), lamented how rife and rampant it has become in the country and commended President Mahama for his proactive move to crack the whip on any public official found to have indulged or intends to engage in corrupt practices, without any favor.
She said the President alone cannot know what is going on in the country and therefore appealed to all Ghanaians to heed to his call and that of former President Rawlings, by whistle blowing to the government on any incident of corruption they witness or hear about going on, adding that, this will make corruption very unattractive to government officials, since they know its final ramification.
Ms Wilson expressed optimism in the measures the NDC government is putting in place to help selvage the economy and assured Ghanaians that, "As NDC senior executive member in the Diaspora, I am always in constant touch with my colleagues in Ghana and I can confidently assure my fellow Ghanaians that, they will soon begin to see positive improvement in their lives, as the government is leaving no stone unturned to stabilize the economy."
Husseini Y. Baba AlWaiz,
Press Secretary, NDC New York

Ms Janet A. Wilson (Insert) In An Interaction With President Mahama In New York