Military chief in Libya's Benghazi escapes assassination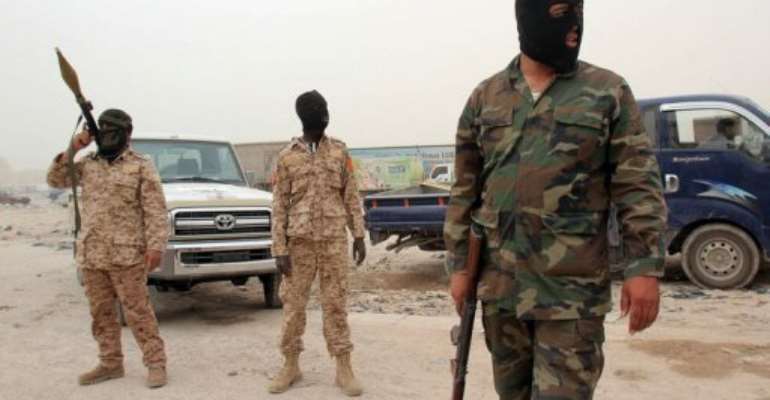 Benghazi (Libya) (AFP) - The military governor of Libya's restive Benghazi on Monday escaped an assassination attempt that killed a member of his entourage and seriously wounded another, a security official told AFP.
"The motorcade of Colonel Abdallah al-Saati, head of the joint security room and military governor of Benghazi, was attacked as he passed through the Al-Hadeq area, leaving one dead and one seriously wounded from his entourage," said security forces spokesman Colonel Abdallah al-Zaidi.
Benghazi's joint security room is a body grouping together all the different security bodies operating in the eastern city.
"Explosives experts are currently combing the neighbourhood to determine how the convoy was attacked and the amount of explosives used in this blast, which was heard in most areas of the city," said Zaidi.
Nearby cars were badly damaged by the blast, he added.
Eastern Libya, and particularly the city of Benghazi, has been hit by a wave of attacks mostly targeting security officials since the fall of longterm dictator Moamer Kadhafi in October 2011.
Bombings and shootings in the region have killed more than 100 army and police officers and judge.
Libya's fledgling government is struggling to build up a professional police and army to counter the rising violence in Benghazi.
Violence has also rocked western Libya in the past week, after deadly clashes broke out in the capital on Friday.
Demonstrators protesting against militias in Tripoli's Gharghour neighbourhood were fired upon from villas occupied by fighters from Misrata, who killed several protesters before rival militias swept in.
At least 43 people were killed and another 450 were wounded in the deadliest unrest to hit the capital since Kadhafi's ouster.