Massive Boost For Black Stars As All Players Arrive In Camp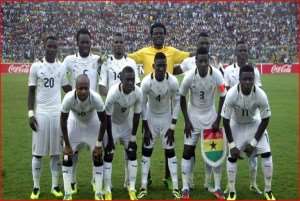 Black Stars
Ghana coach Kwesi Appiah has been boosted by the arrival of all his players for next week's World Cup playoff against Egypt.
All the 24 players invited by the trainer have joined the training camp in the Turkish capital, Istanbul.
This is a massive boost for the side as coach Appiah will now have the time to prepare his squad with all the players now available.
Michael Essien and Awal Mohammed were the last to join on Wednesday morning after travelling from various points to join the team.
This will now give the coach the chance to prepare his team and map out the strategy to outwit the Egyptians after thrashing them in the first-leg.
The Black Stars are preparing for next week's qualifier against Egypt in Istanbul as they want to give the squad some focus ahead of the game in Cairo.
The arrival of Michael Essien and Awal Mohammed will hand coach Appiah a full-house as he now has 22 members of his squad available in Turkey.
Ghana lead the tie 6-1 from the first leg in Kumasi on 15 October.
The aggregate winner qualifies for next year's finals in Brazil.