Accidents Kill 1,539 In 9 Months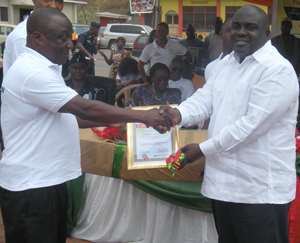 Great Imperial receiving the first prize for the occasion
Road safety is everyone's business, as road accident is no respecter of persons as more people continue to lose their lives through road carnage, Greater Accra Regional Manager of the National Road Safety Commission (NRSC), Daniel H. Wuaku, has stated.
Between January and September this year alone, 10,558 cases of accidents were reported to the police; while 1,539 lost their lives, with 9,741 people sustaining various degrees of injuries.
'If we cannot call this a national disaster, then I am at a loss,' he stated at the 4 th National Road Safety Commission Greater Accra Regional Awards.
He therefore called on everyone, especially those directly in the road transport sub-sector to go the extra mile to protect the lives of mothers, fathers, children, relations and friends.
According to statistics presented, 20,503 people have perished on roads, while 63,384 people got various injuries within a period of 10 years (January 2000 - December 2010).
Great Imperial Transport Company clinched the top spot among the several transport unions and organizations that participated in the Greater Accra Regional Awards.
Metro Mass Transport Limited and VIP Transport, took the 2 nd and 3 rd positions respectively.
The transport unions and organizations were evaluated based on great administration, welfare of members, operational guidelines, training of drivers in road safety, hazard management, innovation, driver and vehicle management among others.
The Road Safety Awards for Transport Organizations is an annual event instituted by the NRSC four years ago, which seeks to recognize the efforts of the transport organizations that had embraced and raised the profile of road safety within their fleet of operations.
The annual award ceremony is one of the many strategies put in place by the NRSC to encourage transport operators to improve upon their operations with the ultimate view of ensuring the safety of all road users.
Mr Wuaku noted that the theme for this year's award celebration, 'Safe Transport System - The Role of Commercial Transport Operators and the Media', was chosen because commercial operators 'owe the good people of this country the moral responsibility to be professional in their chosen business and show respect to the laws governing the operation of vehicles and the use of the road.'
He further stressed that the media also had a critical role to play by carrying the message of good road use practices to the people and not only focus on accidents that had already occurred and their statistics.
DCOP Christian Tetteh Yohuno, representing the Accra Regional Police Commander, stated that their focus was on law enforcement.
He stated that a strategy was being designed to put more police men on roads to make sure road traffic regulations were enforced, both day and night, especially on the highways.
He admonished drivers who always want to rush to their destinations and back to their base for monetary gains to stop because anyone caught flaunting road safety rules would be severely dealt with.
The Manager of Achimota Barclays Bank Branch, Emmanuel Amoah-Atta, said the bank had collaborated with the NRSC to organize this year's awards because they set out every year to make a difference in the lives of people as part of their corporate social responsibility.
He advised everyone to make a personal effort to observe road safety measures and not depend on the NRSC, road transport organizations and the government to protect them from road accidents.
By Silvia A. Uzor