Judgment Debt Commission: New twist in the sale of GNPC drillship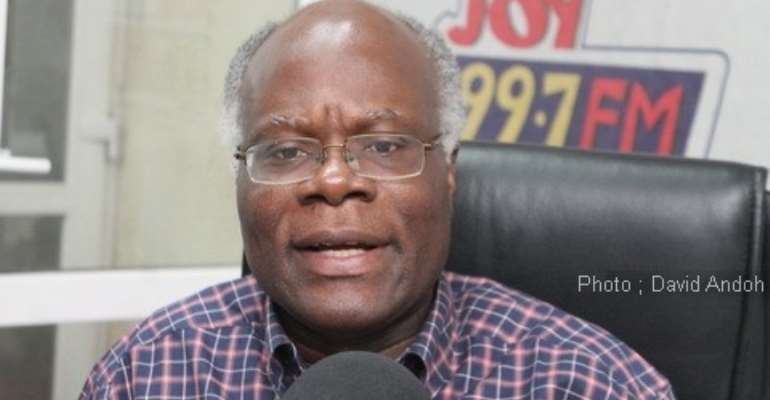 The controversial GNPC drillship saga has taken another dramatic twist. The Judgment Debt Commission, which is investigating the matter Wednesday, revealed some suspicious withdrawals from an international account set up by the Kufuor administration to receive proceeds from the sale of the drill ship.
The ship was sold to pay off a 19.5 million dollar judgment debt owed to French multinational Bank, Societe Generale.
Both the former Energy Minister in the Kufuor administration, Albert Kan Dapaah and his deputy, K.T. Hammond have maintained that all the 24 million dollars realized from the sale of the ship was used to defray judgment debt related cost and the remaining 3.5 million dollars was returned to government chest.
But JOY FM has learnt that there might have been some other withdrawals from the account unrelated to the debt.
Joy News' Joseph Gakpo, who has been following development about the drill ship was told by the lawyer for the Commission, Kofi Dometi Sokpor that the Commission is interested in investigating everything that has to do with the drillship.
For instance, part of the US$3.5 million, lodged in account with the Ghana International Bank under the name GNPC Drillship D511, was used pay Aquatic Engineering.
"A lot of payments have been made out of [D511] account to creditors of GNPC," Dometi Sokpor stated.
Meanwhile, Madam Grace Adzroe, acting Controller and Accountant General confirmed that they had the authority of the department to open that account but said she would not be able to confirm which monies were paid into it and their disbursement.
She said her outfit has requested for further documents including the financial statement from the Ghana International Bank to enable the Department furnish the Commission with clarity on monies related to the sale of the drillship.
Meanwhile, in an interview with Joy News, Mr K.T. Hammond denied the opening of any account with the Ghana International Bank in London for the sold GNPC drillship.
The Commission has further indicated that it will invite Mr. Hammond and former Energy Minister, Mr. Kan Dapaah to help unravel the mystery surrounding the sale of the drillship, but it is unclear when they would be invited.
Some have speculated that 2012 presidential candidate of the New Patriotic Party, Nana Akufo-Addo, who was the Attorney General when the ship was sold would be invited. But Mr. Dometi Sokpor said the Commission was yet to consider that but it would not hesitate to invite Nana Akufo-Addo depending on the testimonies of Messrs Hammond and Dapaah.