Sudan ruling party dissident founds 'Reform' group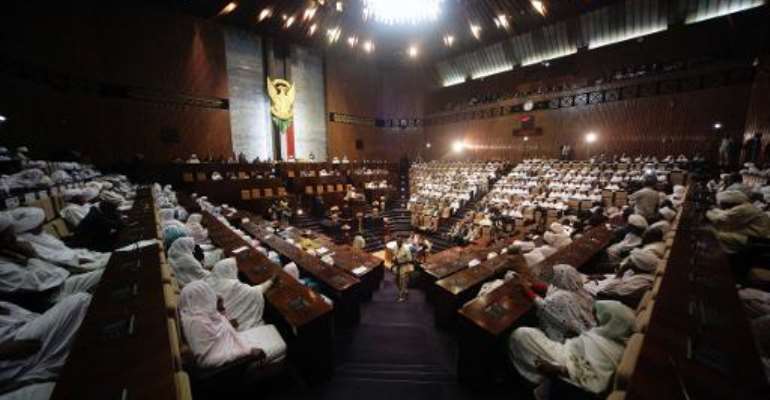 Khartoum (AFP) - The leading dissident who was expelled from Sudan's ruling party last month said Wednesday he has launched a new "Reform" party which has attracted thousands of followers.
Ghazi Salahuddin Atabani, ex-adviser to President Omar al-Bashir, also told AFP he does not rule out standing as a presidential candidate in 2015, although he is "no Hercules".
Atabani said his Reform Now Movement has lodged an application with the registrar of political parties and should be "fully registered" in three months.
Bashir's National Congress Party in November ousted Atabani and two other high-profile members.
They were among more than 30 prominent NCP reformers who issued a memorandum to Bashir saying the government's response to September fuel price demonstrations betrayed its Islamic foundations.
The split by Atabani's group is the most serious defection from the ruling party since 2000, when the Islamist Hassan al-Turabi, a leading figure behind the 1989 coup that brought Bashir to power, broke away and formed the opposition Popular Congress.
Critics of Bashir's 24-year regime have become increasingly vocal since the government slashed fuel price subsidies, leading to the worst urban unrest of his rule.
Security forces are believed to have killed more than 200 demonstrators, Amnesty International said, but the government has given a toll of less than half that.
"Our supporters, who expressed their wish to become card-carrying members, are in their thousands so far," Atabani said in a written response to questions.
"But since we launched the party yesterday we have received many more requests from all over the country and from expatriate Sudanese."
Almost all of those who signed the memorandum to Bashir are joining the new party, said Atabani, who so far has no title in the organisation.
Calls for reform after fuel protests
The Atabani group had sought an independent probe of the shooting of civilians during the protests and called for a reversal of the fuel price increases.
It said "professionals" should take over economic policy, and demanded an end to press censorship and respect for constitutional freedoms, including peaceful assembly.
Even before September, critics within the NCP had raised concerns including alleged corruption.
But analysts said the spontaneous protests pointed to an urgent need for change by the Arab-dominated regime grappling with ethnic rebellions in Darfur, South Kordofan and Blue Nile states, dissension within its own ranks, economic crisis and international isolation.
Since his party moved to expel the Atabani group Bashir has talked of "reform", and he repeated a call for a dialogue with all political parties, including armed rebels.
He has also suggested a wide-ranging government shake-up is imminent.
Atabani -- who in October said Sudan was close to collapse -- said the Reform Now Movement "is of national (not nationalist) orientation and its immediate goal is to foster national unity".
He was until recently a member of the NCP's leadership bureau, is a former presidential adviser on Darfur, and was a minister of information.
Asked whether he could be a future candidate for president, Atabani said: "As a personal choice, believe me, I don't look forward to it. Managing Sudan is a Herculean task and I am no Hercules.
"But as a politician my answer would be: 'I will cross the bridge when I get to it.'"
A few days after Atabani's group announced in late October that they would break from the NCP, Islamist scholars separately founded the National Movement for Change.
Their movement is not a political party but a forum for dialogue on alternatives to a political system which they say has failed since independence from Britain and Egypt in 1956.
Al-Tayib Zainalabdin Mohammed, a key figure behind the scholars' group, said Atabani's party will benefit from defecting NCP members if -- as expected -- the ruling party's promised reforms do not go far enough.
"But still it will be a small political party," said Mohammed, a University of Khartoum political scientist.
Atabani said he is not focussed on drawing support from NCP but will rely on public and youth support.
The government has a history of detaining opposition political figures, and Atabani said he expects the Reform Now Movement to face restrictions.
"Such an eventuality is unavoidable and we are preparing ourselves for it," he said.