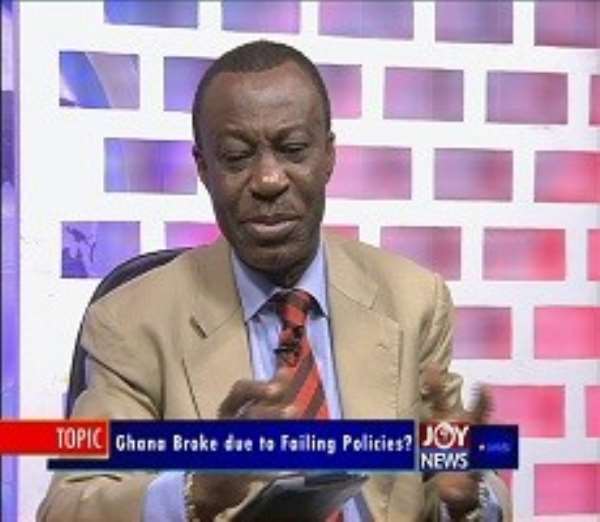 Dr. Anthony Akoto Osei
The Managing Editor of the Insight newspaper, Kwesi Pratt Jnr. has described the press conference organized by the Minority in Parliament on the state of Ghana's economy as "empty noise"
According to him, it is a calculated attempt by the New Patriotic Party (NPP) Members of Parliament (MPs) to throw dust into the eyes of Ghanaians.
Kwesi Pratt made the comment on Alhaji and Alhaji, a political discussion programme on Radio Gold on Saturday.
The Minority at a press conference in Parliament Thursday expressed worry about the rate at which the Mahama-led administration is borrowing on the international market.
The MP for Tafo Pankrono, Dr. Anthony Akoto Osei who addressed the media pointed out that the 49.5% debt to Gross Domestic Product (GDP) ratio means the country is on the verge of crossing the 50% threshold which he says will downgrade Ghana's credit rating.
They projected that at our current borrowing rate of GH¢1.1 billion per month, Ghana's economy may soon collapse.
But Kwesi Pratt maintains that the NPP MPs assessment of the current state of the economy is for "political expediency".
He stated that 49.5% debt to GDP ratio is contestable but for a developing nation like Ghana, the alarm bell starts ringing at the point where the debt to GDP ratio is 60%.
"From the statistics that they [Minority] have given, Ghana is about 10 percent clear from the danger zone and yet they deliberately create impression that we have arrived at the danger zone".
The Insight Editor added that it is mischievous for the Minority to claim that government has done nothing with the monies borrowed when the infrastructural developmental are visible for all to see.
Kwesi Pratt said the ongoing road projects nationwide are part of the projects and that government will soon come out with fact and figures to prove skeptics wrong.