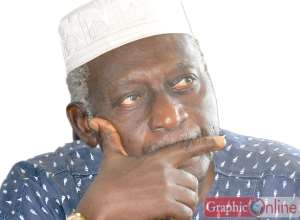 The Socialist Forum of Ghana (SFG) has expressed shock and sorrow at the sudden demise of Professor Kofi Awoonor, former Chairman of the Council of State.
Statement issued by Mr Kwesi Pratt Junior, Convener of SFG, and copied to the Ghana News Agency said: 'That his death occurred in faraway Kenya at the hands of cowardly terrorists, determined to impose their religious bigotry on the world, can only deepen our anger at the reactionary forces bent on eroding the gains of the democratic movement worldwide'.
It said the forces of progress throughout the world ought to remain steadfast in the continuing battle against zealots whose sole objective is to impose their world view through the employment of terror. 'The SFG salutes Professor Kofi Awoonor, an academic of high repute, a poet, author, diplomat and extraordinary political activist, who keenly participated in many activities it organised to promote socialism and Pan Africanism.
'He was a great ally and a combatant for social justice and would be missed greatly by all who cherish the values of freedom,' the statement said. It said as a mark of our respect for this great African, the SFG would organise a night of tributes to Professor Awoonor, at the Freedom Centre in Accra on Monday, September 30, at 18 hours.
'We invite all socialists, progressives, patriotic Ghanaians and the general public to participate in this event designed to honour one of Ghana's most celebrated academics. 'We extend our heartfelt condolences to the bereaved family, the government and people of Ghana and the National Democratic Congress to which he belonged,' it said. - GNA