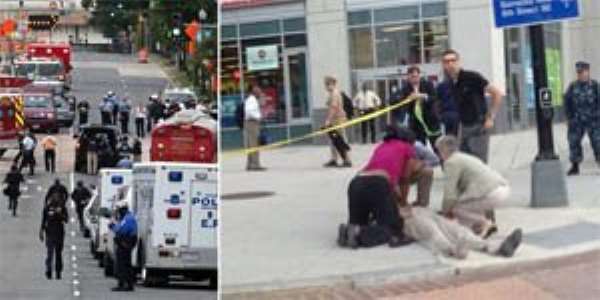 Wounded: Bystanders rush to help a stricken individual who was reportedly shot this morning by a lone gunman at the Washington Naval Yard in the nation's capital
Terror visited Washington D.C. this morning as at least one gunman opened fire inside a building at the Washington Navy Yard killing six people and injuring at least 12.
Police were looking for two other potential gunmen wearing military-style uniforms, including one who had on a beret, chief Cathy Lanier said.
One had a long gun and the other was also armed, she said. One of the three gunmen had died, though Lanier didn't say how.
Witnesses reported one man described as an African-American male in his 50s dressed in military fatigues and armed with an AR-15 assault rifle opening fire upon entering the base at the Naval Sea System Command HQ.
One gunman has been killed, though it wasn't immediately clear how, according to a Defense Department official and federal law enforcement official who spoke on condition of anonymity because they were not authorized to discuss the matter publicly.
Two other officials have said police were looking into the possibility of a second and third shooter.
The attacks came three days after al-Qaeda used the 12th anniversary of 9/11 to call for strikes on America.
Hundreds of SWAT and FBI rapid response units descended on the nation's capital to deal with the situation which unfolded just before 8.30 a.m. this morning.
Initial reports from the scene are that one of the suspects walked up to the facility, opened fire  and then ran inside the building.
'There was three gunshots straight in a row,' said Patricia Ward, who works at the Navy Yard, describing how she first heard the gunfire while having breakfast at the headquarters building.
A few seconds later, Ward said she heard four more gunshots. Security guards rushed in and got people out as fast as they could – "Run, run, run, 'they told people,' Ward told reporters.
NBC News, citing a senior naval officer at the Navy Yard, said at least 12 people had been shot.
'We saw him hold the rifle, and we saw him aim it in our direction,' said one witness to Fox News.
Authorities say a base police officer also was seriously injured.
One victim was reported to have been shot on the roof of a building, reported  News4′ http://www.nbcwashington.com/news/local/Confirmed-Shooter-at-Navy-Yard-One-Person-Shot-223897891.html s Tony Tull.
A U.S. Park Police helicopter lowered a basket to a building and lifted what appeared to be a shooting victim from the roof just before 10 a.m.
Dailymail