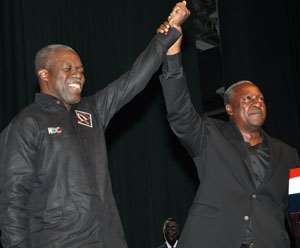 The NDC New York Branch wishes to extend its warmest congratulations to His Excellency President John Dramani Mahama for being declared by the Supreme Court of Ghana as "validly elected ", on August 29th, 2013.
The incumbent government party branch in the US Diaspora also congratulates the entire Ghanaians, irrespective of their party affiliations for their willingness to maintain peace, before and after the verdict, adding that, this shows the victory is for mother Ghana at large not for the NDC alone.
Speaking to Branch Executives during a phone conference on the eve of the Supreme Court Verdict Alhaji Abass Adamu, Chairman of NDC New York branch further reiterated President Mahama's call for all to focus on the important work of moving Ghana forward, he also described the verdict as a victory for all Ghanaians.
While the NDC New York Branch rejoices in the endorsement of President Mahama legitimacy, and understand that fellow supporters will celebrate the Supreme Court decision, we urge all to be moderate in their celebrations and avoid actions in the course of celebrations that could be interpreted as provocative.
We also commended Ghana's religious leaders, both Muslim and Christians for their prayers for peace and security and implore them not to be complacent, but rather continue to pray and preach for peace in the country.
"We therefore hope and pray that our country has brought the curtain of this long-awaited legal tussle to a close, and buried it in the dustbin of history. Its our hope that His Excellency President Mahama, with the help of his cabinet would be afforded the peace and impeded space to enable them implement the "Better Ghana Agenda" policy in ourManifesto, which would in the long run help transform the socio-economic status of all Ghanaians."
Husseini Y. Baba AlWaiz, Press Secretary, NDC New York
Abass A. Adamu
Sent from my iPad