Transport Ministers Meet in Dakar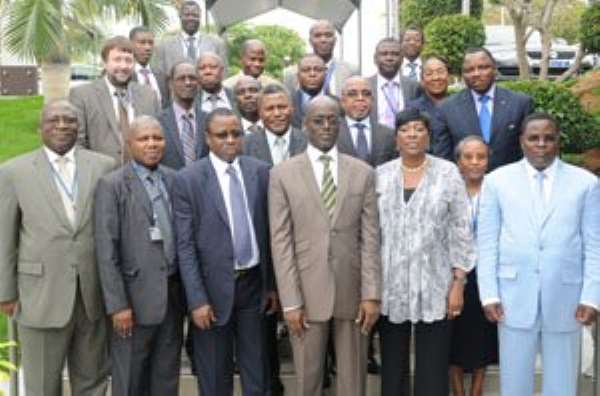 A group photograph of participants including Mrs Dzifa Attivor
A high-level meeting of Ministers of Transport from Benin, Ghana and Togo was held in Dakar, Senegal, to tackle problems affecting the aviation industry in the sub-region.
The two-day meeting held under the auspices of the Western and Central Regional Office of the International Civil Aviation Organization (ICAO) was used to find effective ways of implementing the Joint Management Agreement amongst the three states, and between the Ghana Civil Aviation Authority GCAA and ASECNA.
The meeting was preceded by another meeting of experts from the three States and ASECNA, which was chaired by the Director-General of the GCAA, Air Cdre Kwame Mamphey.
Ghana's delegation was led by the Minister of Transport Dzifa Attivor with Ambassador to Senegal, Yakubu Abdulai, Chief Director of the Transport Ministry, T.A. Selby and other senior management officials of the GCAA.
The meeting was held in a cordial atmosphere and a joint Communiqué on the way forward was issued to be addressed by the States.