Mahama visits Nkonya-Alavanyo communities, preaches peace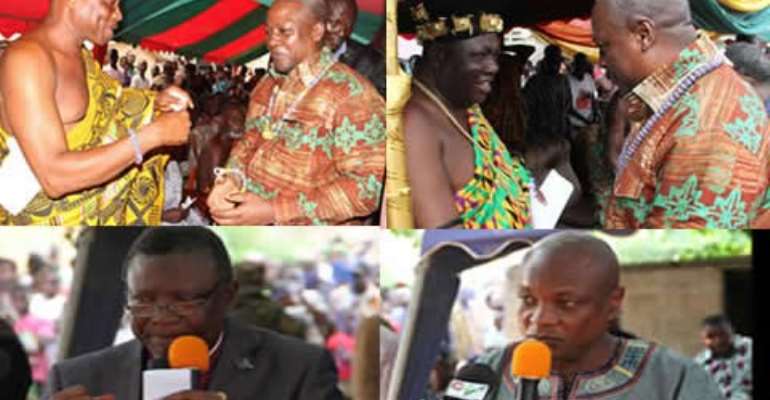 President John Mahama has paid a working visit to the twin communities of Nkonya and Alavanyo, the first time after the fueding factions decided to coexist in peace.
The two communities have been engaged in a nine-decade conflicts which has taken the lives of countless people from both sides.
In June this year, they signed a peace accord in Accra, promising to live in unity to foster development in their respective vicinities.
The president who visited the communities on Wednesday commended and challenged them to keep to their promise to peace, according to a statement from the seat of government, Flagstaff House.
accompanied by the Chairman of the National Peace Council Reverend Professor Emmanuel Asante and the Chair of the eminent persons leading the peace negotiations Rt. Reverend Dr. Buamah, Mr Mahama cautioned the two communities against relapsing into conflict and thus bring to naught all efforts t0 the current relative peace there.
"We are going to guard this peace. We will not take it for granted that there is peace, and in the coming weeks we will invite you to Accra again to follow through and review where we are in order to ensure that the peace is sustained", the President Mahama announced.
He and other speakers, including the President of the Volta Regional House of Chiefs Togbega Afede XIV, linked the underdevelopment of the area to the lack of peace and made a case for the two communities to live as one people in order to open up the area for development.
President Mahama commended the National Peace Council, Togbega Afede XIV, Rev Dr. Buamah and all those working to bring peace to the two communities.
He assured the people of government's commitment to the peace process and promised to keep working with the stakeholders to bring complete peace to Nkonya and Alavanyo.
The Paramount Chief of the Alavanyo Traditional Area, Togbega Tsedze Attakora VII, assured that he and his people remained committed to the peace accord signed in Accra, recognizing that President Mahama is the first sitting president to visit Alavanyo.
Admitting that the conflict has negatively affected development of the area, Togbega Attakora VII thanked the President for the commitment shown and the resources made available to ensure that lasting and unconditional peace returns to the communities.
"No sacrifice is too huge for me and my people to ensure that there is peace between us and our brothers and sisters from Nkonya", he noted.
The Ankobeahene of the Nkonya Traditional Area, Nana Ampem Darko III also restated his commitment and that of his people to live peacefully with their neighbours from Alavanyo.
Also in the President's entourage were the Chief of Staff Prosper Bani, Interior Minister Kwesi Ahwoi and the Volta Regional Minister Nii Laryea Afotey Agbo.