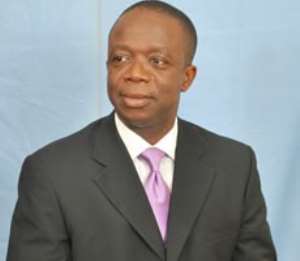 CEO of Bsystems Ghana, Mr. Thomas Baafi
Ghana Telecom Awards, an awards scheme which recognizes and awards players in the telecommunication and ICT Industries, last weekend awarded BSystems Ghana Limited with the Software Company of the year Award at its third annual ceremony which recognized the industry's excellence for the year 2012.
Bsystems Limited is a Software and Database Management Company which offers cutting-edge IT-based business solutions that are meant to meet the present and future needs of businesses within the sub-Saharan marketplace. The organization combines worldwide corps of systems and services expertise with vastly reliable indigenous systems to deliver value- added products and services to customers.
As a wholly indigenous Ghanaian company, Bsystems was incorporated in 1999 and has over the past decade provided IT services and skills training for a cross section of Companies and Individuals. Bsystems has made huge investments in software solutions and has become one of Ghana's leading systems consulting and software development companies. The company and its partners have strived over the years to provide lasting solutions unmatched within the sub-Saharan market place.
The Software Company of the Year award was in recognition of ICT firms whose developments and innovations have been most outstanding in the year under review.
Group Executive Publisher of Mobile World Magazine, organizers of the awards, Mr. Akin Naphtal speaking at the awards ceremony noted that, the continuous growth and success of the IT market and industry depended very much on the celebration of exceptional and innovative performers in the industry.
Mr. Thomas Baafi, Chief Executive Officer and founder of Bsystems Ghana Limited was elated about the award and was grateful to Mobile World Telecoms and Magazine for appreciating the hard work and innovations Bsystems has brought to the ICT industry.
He added that at the time he established the company, his main vision was to provide innovative software applications that offer customers tremendous competitive advantage to meet their business needs, and receiving this award had made him feel proud.
He dedicated the award to the entire staff who had toiled with him through tough times to make this possible.