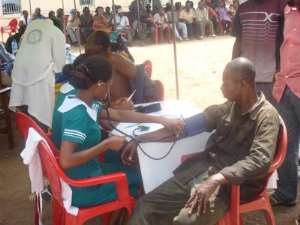 Professionals For Humanity (PROFOH) International is proud to announce the third Free Medical and Social Mission for this year 2013 of its partners Medical Mission International, (MMI) and Earthwide Surgical Foundation (ESF) both from Texas in the United States present a three week mission in Nigeria. As in the past, the team of experts from Europe, India and US will arrive Nigeria on 16th June and depart on 7th July 2013. Their mission is to carry out surgical cases and also treat patients with other medical conditions. The team of experts shall comprise of physicians, nurses, clinical psychologists,laboratory scientists, anesthesiologists, etc..
PROFOH is a non profit medical humanitarian organization, it was established in 1998 to respond to medical emergencies, provide quality access to those who can not afford medical care. We are registered in Ghana,Germany, Nigeria, South Africa, etc.. W are a leading member of the United Nations Convention against Corruption Coalition, a member of the United Nations Global Compact, and Stop TB Partnership of WHO. In addition, we work with UNICEF, WHO, UNODC, etc.. We have conducted several missions across Africa, including missions to Ghana, Liberia, Sierra Lorne, Nigeia, Ethiopia, etc.. We have also undertaken missions to US, Haiti, Mexico, etc.. PROFOH has performed about 10,000 life-saving surgeries and more than a million clinical consultations/treatment since 1998.
MMI & ESF are both non profit organization registered in the United States dedicated in the delivery of surgical care to the poor around the world, and has actually engaged the parctise in Nigeria, Ghana, Bolivia, Guatemala, Mexico,US, etc., by means of manpower, equipment and education with over 5000 successful surgeries to their names. The Free Medical Mission is designed for Nigerians who cannot afford the cost of quality health care.
Editor's Note:
For Inquiries contact:

Mr. Gbemuotor Kama,+234-08033121380

Dr. Philip Eze :+234-8024505715