Frustrated Akufo-Addo Insults Philip Addison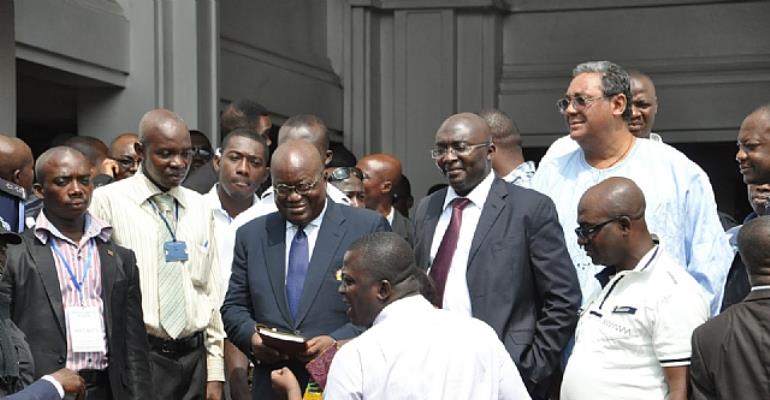 If the NPP General Secretary, Mr Kwadwo Owusu Afriyie knew of the painful frustration that Nana Addo Dankwa Akufo-Addo, the first petitioner in the on-going Supreme Court (SC) challenge of the 2012 Presidential Election results went through and how he reacted in court on Wednesday May 29, he will never have waved his blue handkerchief when the case was adjourned.
The frustration was so glaring and huge that Akufo-Addo could not contain himself, so he sprang on his feet and verbally attacked his lawyers in court. Nana Akufo-Addo was seen venting his spleen especially on Mr Philip Addison for failing to stop Mr James Quarshie-Idun, the lead counsel of the Electoral Commission (EC) from asking certain questions during his cross-examination of Mr Johnson Asiedu Nketia, NDC's General Secretary.
Nana Akufo-Addo angrily blurted out, 'Why are you allowing them to take a second bite at the cherry without protesting.' He threw his arms in the air and told them that they were allowing the respondents to have a field day.
The incident happened when the justices of the SC went on a short recess to deliberate on the objection raised by Philip Addison on the line of questioning by Mr Quarshie-Idun during his cross-examination of Asiedu Nketia, who is popularly known as General Mosquito.
Nana Akufo-Addo could not understand why Philip Addison did not raise series of objections to the questions which he Akufo-Addo considered as re-examination by the EC counsel. He told them that it was plain wrong and unacceptable for them not to have raised objections to several of the questions posed by Mr Quarshie-Idun.
The twice defeated flagbearer of the NPP told his lawyers that he was very much disappointed in them for allowing General Mosquito to rehash his answers in order to repair the damage to some of the questions posed to him by Philip Addison.
Nana Akufo-Addo insulted his lawyers for doing a lousy job and his words were captured by several people around. This behaviour by Nana Akufo-Addo clearly demonstrates his feelings as he has witnessed his weak case and the way it has been torn apart by respondents.
If Akufo-Addo is angry with the way the case was going and could therefore question the competence of his own lawyers whilst openly berating them in court, it seems amazing to see Kwadwo Afriyie also known as Sir John waving his handkerchief in front of the court premises when the case was adjourned.
This is a clear example of a confused Sir John who does not even know what is happening around him let alone know the dynamics of the case before the SC. He has made it his habit of throwing a party any time he feels that the case is going the way of the NPP.
Otherwise how can Nana Akufo-Addo be angry with his lawyers and berate them for doing a poor job in court and less than 30 minutes later see Sir John jubilating that the case is going good for the NPP?