Veep tours disaster zones in northern Ghana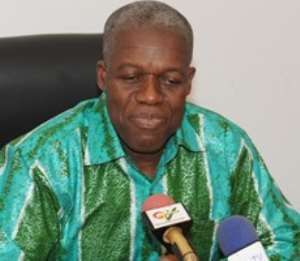 Vice President Paa Kwesi Amissah-Arthur
Vice President Paa Kwesi Amissah-Arthur has begun an assessment tour of disaster zones in the Northern and the two Upper regions.
He will interact with the over eight thousand (8,000) flood victims most of whom have still not received relief items more than three weeks after the incident.
A former Deputy Information Minister, James Agyenim Boateng who briefed the media at the Tamale Airport that, Mr. Amissah-Arthur will carry out a firsthand assessment of the disasters.
Mr. Agyenim Boateng said the Vice-President will solidarise with the affected victims in the nine (9) districts, which suffered tremendous havoc as a result of recent rain storms that hit northern part of the country.
The Vice President will also visit Nakpanduri where at least three people were killed in clashes between Bimobas and Konkombas over a parcel of land.
Mr. Amissah-Arthur is also accompanied by outgoing Northern regional Minister Moses Magbengba.