International Women's Day -Tailor Made Dreams – Felicia's Story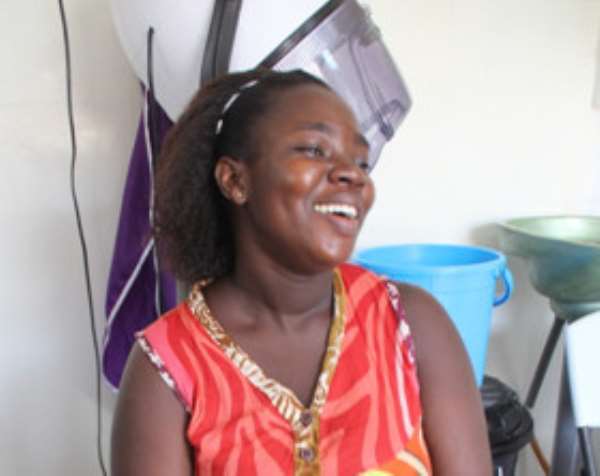 Excuse me is your name Felicia?" I asked as I walked up to a young lady sitting at the entrance of the cramped workspace that had been converted out of a shipping container.
"No, Felicia is inside" she responded as she pointed into the dimly lit box.
"Hello Felicia, my name is Monica, we spoke on the phone" The young lady looked up from her sewing machine, beads of sweat dripping off her temples as she greeted me enthusiastically "Hello, Monica, Akwaaba (Welcome in Twi) how can I help you? ".
This was my first conversation with Felicia. Hello my name is Monica and I am a Peace Corps Volunteer, who was visiting Accra for the first time in September 2011 and had fallen in love almost overnight with the Ghanaian fashion scene. See at the time I was living in Mali and most women did not wear western wear and the tailors (predominately men) found it morally and technically challenging to create the attire I wanted. But now I was in Ghana and the women wore suits to work and form fitting pencil skirts, I was in heaven and Felicia was going to be my way in.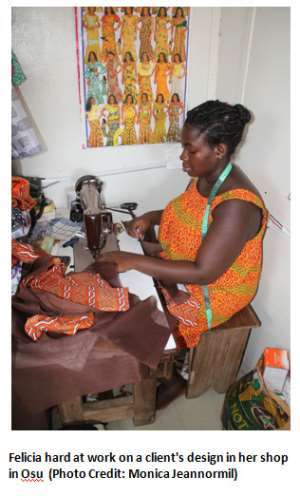 I had been referred to Felicia by Hannah, a young lady that works at Woodin, a very popular fabric store in Ghana. Hannah informed me that she had been a client of Felicia's for several years and was always very satisfied with her work. With Hannah's recommendation, and Felicia's number I soon became a client that referred Felicia to countless friends and acquaintances.

A year later I find myself living in Ghana and as my wardrobe increased thanks to Felicia's creative handwork, so did our friendship. As I brought more and more friends to her shop I started to learn Felicia's story. Felicia travelled a road mixed with disappointment, self-realization and determination to become the self-made woman she is today. Felicia now owns a fashion design studio and a hair salon, allowing her to employ four other women. She attributes much of her success to God and the perseverance to push herself to greater and greater success.

On Friday July 1, 1987, Felicia Nana Aseidu Akrofi was born at the Osu Maternity home. While Felicia's parents divorced only six months after her birth, which meant being raised by a single mother, it did not heavily strain the relationship between her and her father as he only lived minutes away from her childhood home in Osu, Accra. Her parents while not formally educated were also self-made, her father a tailor, and her a mother a food vendor taught Felicia and her four siblings the importance of working hard and taking care of one's family.

At the young age of 10, Felicia could be found late into the evening in her father's workshop sewing together scraps of material into fashionable wear for her friends and her friends' dolls. Felicia's dream however was to be a journalist and saw sewing as merely a hobby not a possible career. As Felicia entered into high school it soon became apparent to her that journalism was a dream that wasn't in her future, there just wasn't enough money to send her to university. Felicia had to decide on another course for her life.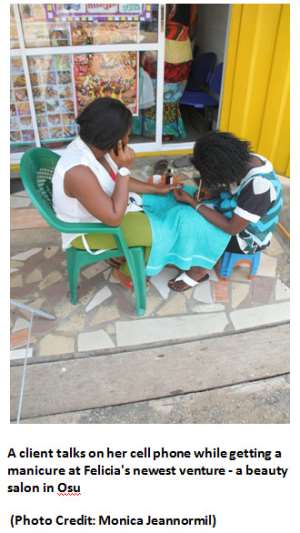 After high school Felicia pondered for almost a year about what she should do as a career. She knew she was good at sewing and thought she should at least attempt some formal training. She recalled the days of shopping in the market with her friends and buying second hand clothes, altering them and creating whole new designs for her and her friends; but until this point Felicia had never had any formal training on sewing. She approached her mother for assistance to become the apprentice of a family friend who had been a seamstress for many years and trained many young women in the local area. Felicia found the work exciting and learned even the trickiest of sewing techniques quickly. After a year of formal training and three years of crafting her skill, Felicia made the life changing decision of opening her own shop.

Opening her shop was a labor of love. She first began by seeing clients in her mother's home, through word of mouth and her commitment to producing the best products her business increased. In 2004, after saving 1,000 ghc ($529), Felicia converted a small shipping container in her mother's compound and began receiving clients. This is where I would meet her almost seven years later. While most women would bathe in the success that Felicia was experiencing, she wanted more and was thinking of what to do next.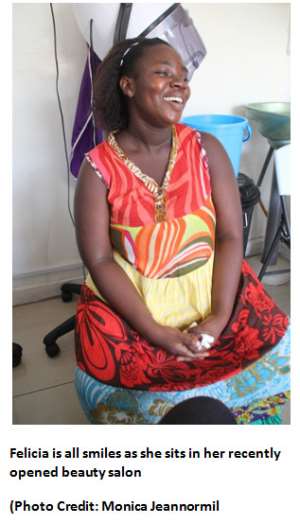 Felicia says "God started blessing me with clients and the environment wasn't conducive to that increase. I wanted my clients to be comfortable, have some place to sit, I wanted my own space." In 2011, that's just what she did. Two streets away from where she grew up, Felicia opened her own fashion design studio. When asked why she calls herself a designer and not a tailor, Felicia responds animatedly "A tailor just sews what you bring them, they have no input, as a fashion designer I give my clients ideas based on their [body] structure, their style, and their fabric."

Even with this success Felicia's not done yet. She is a wife and the mother of two young boys and while currently 7 months pregnant, Felicia still found time for her newest venture – a beauty salon. She says "I want to give my clients the total package, I love making women beautiful and now I have another way to do that".

Felicia attributes her success to God and hard work. She says "I feel great and always happy owning my own business because at long last I've really made it". Felicia is committed to running her business for years to come because it enables her to provide for the education of her children and provide them with opportunities she didn't have growing up. "I don't want them to not be able to follow their dream because I can't afford it" she says.

What advice does Felicia have for young women and girls this International Women's Day?

"Stay focused, pray for God to help you discover your talents and the rest is up to you".