PSG-Valence/Ancelotti "Matuidi was fantastic"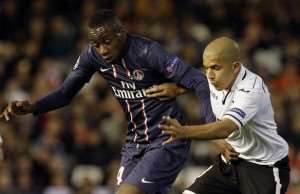 Blaise Matuidi confirms that he is the only consistent player of this Paris-SG. Wednesday, against Valencia, the Angolan original was author of a huge game, at the second leg of the knockout stage in the Champions League.
With nineteen balls recovered in the feet opposing races in all directions and always passes data forward, the former Etienne has drawn praise from Carlo Ancelotti .
"Matuidi was fantastic. It is not a secret; he has done it all the time. At the moment, he is one of the best midfielders in Europe, launched the PSG coach after the game. In the first half, he took a shot and then had a little problem. He wanted to get out, but I told him: you stay! "
Questioned by bein Sport , Didier Deschamps has also praised the former Saint-Etienne. "He is not new (see to play at this level, ed), explained the coach. It worries me a bit to see him play 90 minutes every 4 days. He is so generous in everything he does. One time, when I saw him on the ground, I got some chills … "