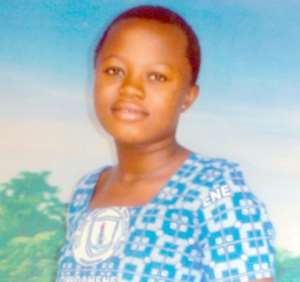 A FINAL-YEAR Student of Afia Kobi Senior High School at Taabuom in the Atwima Kwanwoma District of Ashanti Region has died under bizarre circumstances.
The family of the deceased, Rose Jackson, an Arts student, is sensing foul play in the girl's demise, so they have reported the matter to the police to investigate for the offenders to be punished.
Rose Jackson, 18, reportedly complained bitterly of stomach ailments on Monday immediately after leaving the dining hall with other students of the school.
The school authorities, according to reports, rushed Rose to a clinic at Taabuom for medical care around 6 pm.
Rose's condition rapidly deteriorated around 2:30am on Tuesday so the school authorities rushed her to Komfo Anokye Teaching Hospital in Kumasi for further treatment.
Sadly, Rose gave up the ghost when she was receiving treatment at the Komfo Anokye Teaching Hospital, some few hours on arrival at the medical facility.
But the family of the deceased is up in arms against the school authorities whom they are accusing of gross ineptitude which led to the demise of Rose.
A brother of the deceased who gave his name only as Ahmed said the family suspected some foul play in the death of his sister.
He said the matter had been reported to the police to investigate and help bring the culprits to book.
Ahmed believes the school authorities are being economical with the truth with regard to what really led to the death of his sister.
What baffles his mind is the fact that the school authorities did not inform the family when the girl fell sick though their place of abode, Atwima Bawku, is some few kilometers from the school.
"The school authorities called the family around 2:30 am on Tuesday, telling us to meet them at KATH in Kumasi where they were rushing Rose, who was very ill"
Ahmed, amid sobs, wondered why though his sister fell sick on Monday , the school authorities waited till the dawn of Tuesday to inform the family?
He said the family quickly rushed to KATH but when they reached there, Rose had already died .
Ahmed said reports that the family had gathered so far indicated that the authorities allegedly refused Rose permission to leave the school to the house for treatment.
He said the school management only called the family to inform them after they had realised that the girl's condition was worsening.
Ahmed said the deceased family was brimming with rage over the calamity which had befallen them.
He expressed hope that the police would properly investigate the matter to erase any suspicion of foul play.