Graduates Urged To Explore Other Business Opportunities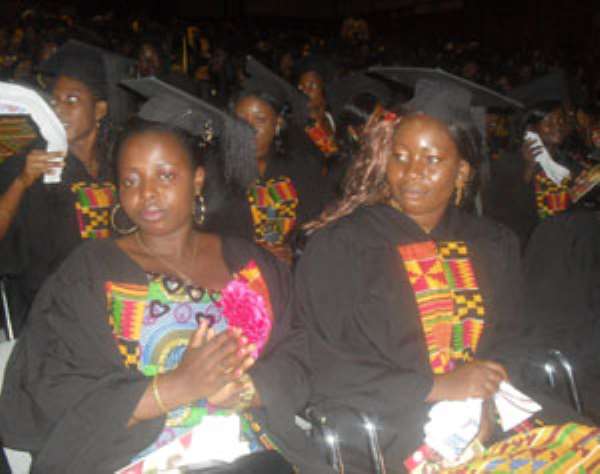 The Chief Executive Officer of Jospong Group of Companies, Dr Joseph Siaw Adjepong, has urged university graduates not to rely solely on the formal sector for jobs, but should explore other business opportunities in the country.
He challenged the graduates to put to effective use and implement the knowledge they have acquired through their four years of rigorous academic work in tertiary education.
Dr Adjepong made the call at the 4th Congregation of the Pentecost University College(PUC),on the theme " Entrepreneurship, Employment and National Development: A public-Private Sector Responsibility".
"The problem is that many of us believe that after graduation, there are readily available avenues for employment. The harsh reality is that things are not that straightforward", he said.
He stated that despite the massive efforts by successive governments to create employment, rapid population growth, with its attendant expanding labour force, has still left a large number of people unemployed.
According to him, statistics has shown that about 250,000 adults join the labour force annually, with over 30 per cent of them being graduates of tertiary institutions. "With more than 70,000 graduates that join the labour force, only about 5,000 are employed by the formal sector; while the remaining 65,000 thereabouts endure in the informal sector or remain unemployed," he added.
Dr Adjepong called on the private sector to partner the government in its quest to create employment.
This,he said, would enable the government and private sector entrepreneurs to pool risk capital to undertake massive investment that would create employment for the teeming graduates.
Citing an example of his field of work, Dr Adjepong stated that Zoomlion Ghana, under various forms of Public-Private Partnerships(PPP) such as the Local Enterprises and Skills Development Programme(LESDEP) and the Youth Enterprises and Skills Development (YESDEC), has a core staff of about 2,800 and manages 63,000 workers.
Prof. Kweku Osam, Pro-Vice Chancellor for Academic and Students Affaires at the University of Ghana, congratulated the graduates and wished them well in their pursuit.
He advised the students to desist from plagiarising the work of others without acknowledging sources as the act was criminal.
Rev. Dr Peter Ohene Kyei, the Rector of Pentecost University College, said in order to provide graduates with employable skills, the PUC will soon start a Masters programme in entrepreneurship which would roll out programmes involving hands-on outcomes such as BSc, Construction Technology and Engineering Management.
According to him, the Pentecost University College is very alive to this call to inculcate entrepreneurship in its students. "As a Christian University with the overarching aim of empowering students to serve the generation with integrity and the fear of God,we also believe in training the total person spiritually, socially and intellectually", he said.
He said the university was working assiduously to ensure that all programmes are oriented towards various industries and are market driven.
Dr Kyei, therefore, called on the government to speed-up its effort in establishing the necessary legal and regulatory framework that promotes entrepreneurship and also provide special funds in support of young entrepreneurs who want to start their own business.