We'll flush out the galamsey operators- JM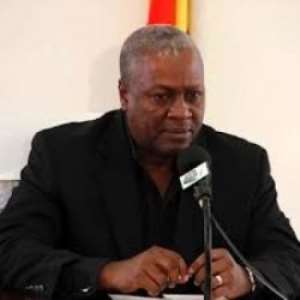 Prez John Dramani Mahama sad
Accra, Feb.26, GNA - President John Mahama has assured the security agencies of adequate support to flush out illegal miners across the country.
"I am appalled to see people engaging in galamsey, and especially illegal mining that take place in or near water bodies. I am going to support the Security Task Force working to clear the miners, and I want to warn those foreigners and their local collaborators that we are going to chase them out", President Mahama said.
An official statement issued in Accra by the Ministry of Information and Media Relations said the President said this when he met with family members of a naval officer who lost his life chasing galamsey operators in the Pra River.
The President also visited the Daboase Water Treatment Plant in the Mpohor Wassa East District of the Western Region.
The Daboase intake point of the Daboase treatment plant has been heavily polluted and silted by the activities of illegal miners, popularly called 'galamsey' miners.
The President urged the task force to intensify their work to bring to book persons engaged in galamsey activities.
According to him, the laws of the country forbid foreigners from engaging in small-scale mining and warned that the law would deal appropriately with any foreigner caught.
Two naval officers lost their lives when they drowned in the River Pra on Saturday when a taskforce went on an operation to clear illegal miners operating in the river.    
President Mahama sympathized with the families, noting that the unfortunate situation, should spur the security team to flush out the illegal miners.
He also tasked the commanders of the security agencies to ensure that personnel were provided with the appropriate protective and safety gear when embarking on such operations.
The Daboase treatment plant currently supplies less than 2.5million gallons instead of an expected six million gallons of water.
GNA