All must join in the fight against corruption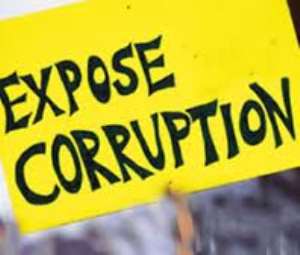 CORRUPTION
Ho, Feb. 15, GNA -  Miss Sandra Arthur, Programmes Officer of the Ghana Anti-Corruption Coalition (GACC) has stressed the need for all Ghanaians to join efforts to eradicate corruption in the country as the effects of the canker affects everybody.
'Unless we see and speak about evil acts, people won't get to know about them,' she stated.
Miss Arthur was speaking at a GACC Capacity Building Workshop on the Whistle Blower Act for Civil Society Organizations (CSOs), Community Based Organizations, (CBOs) and sections of the media in the Volta Region, at Ho on Thursday.
The workshop which is one in a series aims  at getting organized groups to work as advocates for the fight against corruption, and is funded by Open Society Initiative for West Africa (OSIWA).
Mr Robert Amo, a Facilitator, said there was the need to review the number of authorized persons and institutions who can receive disclosures.
He said a much less number than the current 18 would make capacity building much easier, adding many on the list currently did not know they had those responsibilities under the Whistle Blower Act.
Mr Amo said a lot of work had to be done to get the Police in tune with their roles in the management of the Act.
Miss Cindy Atakro, a participant, commented that currently a whistleblower arriving at a police station to make to a disclosure might have to deal first with officers at the counter, thus blowing the informant's cover.
Topics treated include Developing Effective and Efficient CSO's Community Outreach Programmes on the Whistleblower Act, and Understanding Practical Processes in Whistle blowing.
GNA