Sekou Nkrumah Advises Ken Agyapong; Behave And Speak Well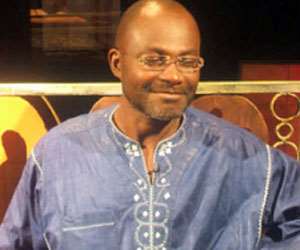 Kennedy Agyapong
Son of Ghana's first President, Dr. Sekou Nkrumah has adviced Assin Central MP, Hon. Kennedy Agyapong to be civilized and behave in public as a Member of Parliament so his position would be respected as legislator.
Speaking on Asempa FM, Dr. Sekou believes Ken Agyapong is tarnishing the image of other legislators in parliament with the kind of words he uses in public and must be summoned before the House for query.
"He is not representing Parliament or Parliamentarians well, and making mockery of the decisions of government. Look at the words he was using, I think it's unacceptable. I don't think it's proper for someone in that position to speak the way he (Ken Agyapong) does, it is unacceptable." he stressed.
According to him, a legislator cannot speak anyhow in public, not to talk of insulting and using foul language against his colleague Members of Parliament.
"When you are in a responsible position, you really have to behave and speak well.
"I was thinking Ken was speaking from his bedroom. This is really bad from a man of his caliber. Ken must behave and learn how to speak well in public, he must learn. Parliament need to tell him that he (Ken) cannot disgrace Parliament. I cannot even repeat what Ken Agyapong said.
"Can you imagine he (Ken Agyapong) is a President and continue to speak this way, would it be acceptable," he asked.
However, he said the leadership of the NPP led by Akufo-Addo who he (Ken) claimed he respected much must penalize both P. C. Appiah-Ofori and Kennedy Agyapong for their bad public display and the choice of words they used in public.
"The party hierarchy must act on this since their behavior doesn't speak well of the party. They must check him (Ken). Nobody is above the party, you can't just speak anyhow, it's unacceptable. What do you except the less privilege to say if a leading member is using such language?"
Kennedy Agyapong on Tuesday lambasted former New Patriotic Party (NPP) Member of Parliament for the Asikuma Odoben-Brakwa constituency, Paul Collins Appiah-Ofori on OKAY FM, for asking him (Kennedy Agyapong) to tell Ghanaians the source of his wealth and other comments he has made concerning the party's position not to be part of Parliaments Appointments Committee to vet nominated ministers by President John Mahama.