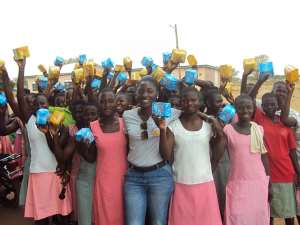 Group Photograph of The Beneficiary Students
Brilliant but needy students have been selected and given personal hygiene sanitary pads from two (2) Senior High School –Bunkpurugu Senior High School and Nakpanduri Senior High School respectively in the Bunkpurugu/Yunyoo District from the Northern region.
The CEO of Bright Generation Community Foundation, Madam Bernice Dapaah explained that , many girls living in poverty, life comes to a screeching halt when puberty is reached. Instead of going to the store to buy pads, too many girls and women resort to whatever is available for free – old clothes, leaves, mud, and newspaper.
To avoid leaks and stains in public, they stay home and miss school or work each month. Without resources to catch up in school, girls get further and further behind in classes, fail, get discouraged and drop out of school. The lack of affordable hygienic products and facilities, compounded by negative cultural attitudes, has profoundly and adversely affected the education of puberty-age girls in Africa.
According to UNICEF, one in 10 school-age African girls stays home during her period or drops out entirely. Menstrual Pads for Dignity Initiative a project of the Bright Generation Community Foundation seeks to provide a pathway to education for girls from deprived communities and by providing reusable cloth menstrual pads so there is not a struggle every month to find sanitary products with limited funds.
According to Bernice Dapaah the Executive Director of Bright Generation Community Foundation, her organisation initiated the project because they strongly believe that improving the plight of women and girls in Ghana is one of the central moral, political and economic challenges of our time.
She said empowering girls and women is a prerequisite if we are to conquer poverty, disease, hunger, environmental destruction amongst others.
Ms Dapaah said apart from the provision of menstrual pads for girls, the initiative will also provide information to maturing girls and women that would help remove the sting of taboo and provide answers to questions as fundamental as "Why am I menstruating?" and "What is going on with my body?"
She said the lack of knowledge and understanding about menstruation is the key source of stigma about what is a normal, natural biological process. There is also a culture of silence around menstruation leading to the menstrual process being viewed as a weakness of women. The subject is hardly ever discussed in families, resulting in it also not being an easy topic of discussion and engagement even in schools.
She noted that, these selected Schools and Students are going to continue benefiting from her Organization till their completion.
The District Chief Executive of the area Hon Philip N. Laari, thanked madam Bernice Dapaah for her intervention in that direction.
He explained that, search initiative is very important considering the health challenges /problems our School Girls and women faced in respect to menstrual issues.
Hon Laari expressed that, the Bunkpurugu/Yunyoo District is still the most deprived district in the entire country. According to DCE, government of Ghana is doing its best in bringing development project especially in the last four years.
He called on Bright Generation Community Foundation to expand their initiative into the district, especially in the Primary Schools. He used the opportunity appeal to private Organization to come into the district to help what President John Mahama is already doing.
The students from both schools lauded the CEO Madam Bernice Dapaah and the entire staff of Bright Generation Community Foundation for the support. They pleaded that, they still have more of their colleagues faced with the same challenges therefore the need for more support comes.