3 Die In Collapsed Building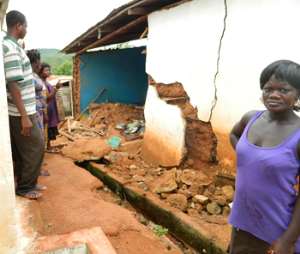 According to Opanyin Kofi Agyinda, head of the family of the deceased, on the night of Tuesday, January 22 a storm hit Egyam, a village near Takoradi, where the Catholic Church has a popular grotto called Our Lady of Lourdes.
He told DAILY GUIDE that at about 4:40 a.m, a family member, who called him later, heard a loud sound in the house.
When they came out of their rooms, those in the compound called out her name, but there was no response so they had to forcibly break the door. They found out that the building had totally collapsed and the debris had covered the entire room, he stressed.
'In fact, when we rushed to the place at about 4:50 a.m. the room in which Oboi Assua and her grand children were sleeping, the mud had collapsed on the three burying them entirely.'
'An alarm was raised and people came around with shovels and buckets and quickly started to clear the debris only to find that the three people had been totally buried dead under the debris.
They wept uncontrollably, so we had to report to the case to the police who after examining the bodies took them to the hospital.'
Opanyin Agyinda intimated that the mud building was not weak as speculated.
The bodies of the deceased were later brought to Egyam for burial after Dr. Charles A. Mensah, a pathologist attached to Effia Nkwanta Regional Hospital in Sekondi had critically examined them.
When contacted, Dr. Mensah said Kweku Baidoo's skull was crushed, the seven-year-old girl, stressing that Mary Quaicoe suffered internal bleeding due to the debris.
Oboi Assua, he said, sustained a fractured left neck and thigh.
Meanwhile, the caretaker District Chief Executive of Ahanta West, Joseph Dofoyenah, the District Coordinating Director, Alhaji Mohammed Hardi and Western Regional Coordinator, Japhet Baidoo have all travelled to Egyam to console the family members of the deceased.
From Sam Mark Essien, Egyam