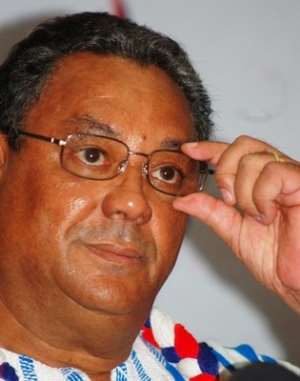 The refusal of the opposition New Patriotic party (NPP) and its leadership to accept the verdict of last Friday's presidential elections has led to a series of violence attacks on some journalists and staffs of some popular media houses in Accra.
So far, staffs of Joy FM and Metro TV, the two media houses strongly chastised by the NPP National Chairman, Jake Otanka Obestebi-Lamptey have been victims of attacks from supporters of NPP.
Radio Gold and Agoo Fm also had to request for police and military protection to be able to carry out their work.
One broadcast Journalist, Naa Korley, was also attacked by party hooligans at Osu near the Ghana Football Association (GFA) office in Accra. The windscreen of the press car was smashed in the process.
In the case of Joy FM, a team of reporters who were part of the convoy of the AU chairman, Yayi Boni, who was heading to the residence of Nana Akufo-Addo for a meeting, was attacked.
The cudgel-wielding supporters accosted the Joy FM branded vehicle and began to the attack, clubbing the vehicle at will and with venom.
Manasseh Awuni Azuri who was part of the team told Myjoyonline.com that but for the timely intervention of the police and military personnel they would have been lynched.
According to him, the vehicle has been dented after the attack. The head-light was cracked in the process.
The joy team is currently being held at the Nima Police Station for their own safety.
Last Sunday, the radio stations and Metro TV had to send most of its staff home following a press conference in which the NPP National Chairman publicly took issues with the media house for declaring President Mahama, the winner of the presidential election based on provisional results.