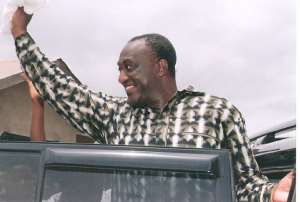 They have not yet filed, so there is nothing yet before the court. That means comments are free as of now. Let me quickly throw in this. Reports from the grapevine is that even though the Akufo-Addo camp is aware they cannot produce enough numbers to declare the NPP flag-bearer, the winner of the just-ended elections, it appears their strategic objective is to whittle down the percentage points, enough to deny President Mahama the absolute majority ascribed to him. The logic of that strategy is that it will force a run-off.
For the losing side, a run-off is better than nothing, so this is quite understandable from their "at all costs" perspective. The real aim however, is to create the grounds to quietly replace the current NPP front-runner for the 2016 Presidential race, the former Trade Minister, the Honourable Alan Kwadwo Kyeremanteng, popularly known as "Alan Cash".
The ideas currently on sale apparently from the Akufo-Addo camp, indicate that they are beginning to make references to Senator John McCain and Ronald Reagan, who went into the race in their seventies.
And as a clear sign that a third round is not being ruled out, they even point home to the fact that the late President Mills lost elections three times before he won, and so there is nothing wrong with Nana Akufo-Addo going for the third time.
The decision by the National Executive Council of the NPP to contest this issue in court, harms the long-term strategic interests of the party, only to satisfy an inordinate short-sighted ambition of an individual. It is obvious that Nana Akufo-Addo is not going to win a single election in Ghana for the rest of his natural life! The NPP is clearly flogging a dead horse by urging him on.
2016 is not far away. President John Mahama would be half-way through his administration. And there is no doubt that the NPP has even allowed itself to learn any lessons from the current defeat. The first disservice the party does to itself to to live in self-denial.
To believe that you have won an election when you have clearly lost it, prevents you from learning why you lost it in the first place.
The NPP risks following this sweet myth of being the winner and fail woefully to capture, register, their strengths and weaknesses properly, and to improve upon their performance next time around.
Personally, I think the NPP must be bold enough to tell Nana Akufo-Addo not to waste their time. Right now, unknown to the NPP and their leadership, it is no longer a matter between the NPP and the NDC, it is a matter between the Akufo-Addo and Ghana.
There are many independent civil society organizations, African Union, Ecowas, CODEO, Joyonline, all of them without an exception arrived at the same results of a free fair and transparent election.
Thus even if such a sore-loser should be qualified to contest an election in Ghana and not permanently banned from doing so again in the future, a punishment which I strongly recommend, what shall await the NPP 2016 election will be nothing but an overwhelming public anger and rejection. Nana Akufo-Addo is a damaged product. If the NPP wants to penetrate the market, it should know what to do.
A recent declaration by Dr. Sekou Nkrumah to the effect that "the defeat of main opposition Flagbearer Nana Akufo-Addo in the just ended presidential elections essentially marks the end of his presidential ambitions", is the widely-held view both within and outside the party. Any change of plans is bound to receive a fierce resistance, but would be the least of the problems of the "at all costs" fraternity. Meanwhile, a lot of people are increasingly saying the same thing that Dr. Sekou Nkrumah was reported to have told the XYZ News:
"The son of Ghana's first President told XYZ News that Nana Akufo-Addo's age will not make him a suitable candidate for the 2016 elections.
"I think the Presidential ambition of Nana Addo has just gone out of the wind by this defeat. In life I think it is not everything that you can achieve and life has a way of humbling people," Dr. Nkrumah said. He added, "NPP will definitely have to change their leadership; I can't see Nana Akufo-Addo leading the NPP in 2016".
Nana Akufo-Addo will be 72 years-old by 2016. Dr. Sekou Nkrumah also added that Nana Akufo-Addo's loss paves the way for former Trade Minister John Alan Kwadwo Kyeremanteng to take over the mantle of leadership of the NPP. He also described Alan Kyeremanteng as a more favourable and likeable candidate than Nana Akufo-Addo.
"Alan Kyeremanteng looks like he is now very well positioned to take over the leadership of the NPP…I think talking about personality and all that, he seems to be favourable to many people in terms of the way he carries himself".
Meanwhile, Dr Sekou Nkrumah believes President Mahama and the incumbent NDC won the elections because of the candidate's ethnic background.
"If John Mahama was not a Northerner NDC would have lost the 2012 elections," Sekou Nkrumah said. [Alan is more "likeable" than Nana Addo - Sekou | General News of Tuesday, 11 December 2012, Source: radioxyzonline.com http://www.ghanaweb.com/GhanaHomePage/NewsArchive/artikel.php?ID=259126&comment=0#com]
I listened to Mr. Alan Kyeremanteng's speech at the Efua Sutherland Park the other day, and I was very impressed by the powerful show of unity and solidarity there was behind Nana Addo within the party. Even if it was a mere window-dressing, I thought it was one of the most fantastic spectacles of the event. His public endorsement of Nana Akufo-Addo looked genuine and sincere.
But I think that ought to be how far he should go if he has any chance of not being squeezed out of the race, from now on. There is no need to break one's back for a group of inward-looking, arrogant, vindictive, tribal warlords who are hell-bent of winning the Presidency "at all costs", including at the cost of the reputation of the NPP throughout the world, and most importantly, to the Ghanaian electorate!
If I were Alan Cash, I would ask myself what good can this litigation do to the party, since the odds far exceed the evens? What good will it do to his own leadership qualities, if he cannot simply come out and speak his mind, if he thought the action was futile and disgraceful?
I have no doubt he is fully aware of what the people he is following think of him. My attention to the existence of the "Agenda 2016" was drawn when the former Minister of Information, and Member of Parliament for Mfantseman, my own good friend, Honourable Asamoah Boateng, decided one day, to pay a visit to the Victory2012 Headquarters, which was the headquarters of the Akufo-Addo campaign.
Here is a story that speaks for itself: "The New Patriotic Party (NPP), even in opposition, is a house divided against itself where factionalism has taken over sense of strategic reasoning DAYBREAK has gathered. Reports say some key persons who campaigned for Alan Kyerematen are not been tolerated at the Ridge campaign office of Nana Akufo Addo on suspicion that they have a 2016 agenda rather than a 2012 agenda."
"So nasty is the development that former Information Minister, Stephen Asamoah Boateng, who supported the Alan Kyerematen flag-bearer bid, was recently booed, insulted and hooted at the front gate of the Nima residence of Nana Akufo Addo by some of his security details at the entrance.
Not only did they rain insults on Asamaoh Boateng but he was warned to leave the place and never return if he does not want to suffer a broken jaw.
Some journalists who witnessed the nasty scene feared that the former Minister would be assaulted and they went to his rescue until an aide of Nana Addo intervened and whisked Asabee into the compound.
The attackers were not even given a verbal rebuke." (See: "Nana Addo Snubs Alan Boys" Ghanaweb, General News of Thursday, 30 September 2010.)
In the face of all these provocations, including the severe beatings at the NPP Headquarters of some of them, by the body guards of Nana Akufo-Addo. To be fair, Nana Addo did apologize for the actions of his "boys", but that was not the only grievance boiling underneath.
I once wrote: "For example, one of the candidates who contested the party's chairmanship slot, Stephen Ntim, has voiced out some concerns relating to how the party's electoral committee handled the grievances of aspirants. Mr. Ntim who lost the Kumasi congress to Jake Obetsebi-Lamptey is convinced that he was cheated.
After months of keeping his cool, he finally described his painful experience on Asempa Fm' Ekosii Sen programme on Thursday, 15 July 2010, citing how he was defeated due to the manner in which the electoral commission handled his petition.
Mr. Ntim revealed that he sent a petition of about three pages long to the party chairman Jake Obetsebi-Lamptey to investigate the alleged electoral malpractices that rocked the Kumasi congress which was snubbed by Jake. According to him not only did he wait for one and half months for a reply, but in the reply, which he claimed was made up of only four lines, Jake indicated that the election committee would rather consider resolving the issues concerning the electoral irregularities and not necessarily investigating the matter.
Obviously aggrieved, Mr. Ntim cited some incidents which he believed robbed him of his votes. He said he was not given a copy of the electoral register. Secondly, there were proxy votes of about five hundred which exceeded the accepted proxy votes of one hundred and eight. According to him there were eleven proxy votes against him alone.
He also alleged that voters from TESCON were hand-picked to vote against him. Those who have been following the story for sometime can readily recall the hints dropped by a bruised Ntim just after the vote and his insistence on using the party's internal procedures. Pressed by a reporter, he would not leak much at that time.
But following party procedure has meant complaining to the thieves who are bent upon stealing again. As Ntim's letter to Jake and the response he received attests, the bottom-line has been Jake is the chairman and Ntim is not.
And cheated or not, that is not going to change any time soon, with Jake receiving petitions through internal party procedures and writing what he likes in response." [NPP Congress Blues: The Beginning Of An Inevitable End? | Feature Article 2010-07-21 http://www.ghanaweb.com/GhanaHomePage/features/artikel.php?ID=186360&comment=5913589#com]
To make a bad situation even worse; people close to what might fit the description, "the Akyem Mafia" such as Kwame Okoampa-Ahoofe, Jr., waged a relentless attack on ex-President Kufuor. It took them some time that they needed the support of former President Kufuor before they started to give him his due respect. It took a lot of persuasion to enable Kwame Okoampa dimly capture a distant ray of light! Okoampa systematically attacked anyone who asked him to cool it. In his comment below, Kwame Okoampa is responding to a fellow NPP supporter suggesting that the attacks on the ex-President could hurt Nana Akufo-Addo's chances.
It needs to be mentioned that at the time Kwame Okoampa-Ahoofe Jr., was writing this, he was a "member of the Governing Body of the Danquah Institute"! Under the title, "Comment: Did I Impress Your wife?" Okoampa charged:
"Man, are you good at spewing crap! All of a sudden, it is the fault of Owusu-Akyem Tenten Nana Kwame Okoampa-Agyeman! That I served as Local Government secretary under Rawlings when the judges you so much cared about went missing.
Yes, the Akyem-Mafia killed the judges!
Barima, ask those who went to secondary school with me: I was editing "The Mountaineer" when Kufuor was a Kwaku Baah lieutenant and B. B. Ofori was my genius Geography tutor!
In 1932, when the real Asante-Mafia ran my maternal grandfather, Rev. T. H. Sintim out of the Adum section of Kumasi and off his job as the first native-Ghanaian headteacher, for being criminally culpable of Akyem descent and heritage, as Justice Sarpong put it rather mildly a few days ago, Nana Yawbe Sintim-Aboagye was "acting high and mighty," as the expression is the exclusive behavioral preserve of Akyemfo.
Don't talk about Dr. Richard Anane now: I saw and read your large corpus of protest literature on Ghanaweb. Rather, let's talk about Mr. Osafo Maafo. Oh, no, no, no.... Why? Because he is only an Akyem-Kotoku bastard!
My friend, where were you when the Ejisu-Piranhas ran me out of NPP-USA because I had dared to call Uncle Kofi Diawuo his real name?
And where were you when my own father, the founding-libator of the Amansie Society of New York was banished because one of your royal Asante-Angels suddenly discovered that his tabooed Akyem identity was stalling the progress of the organization?
My friend, you are lucky you are spewing such guff tens of miles away; else, I would strangle you and face execution by lethal injection!" - Author: Kwame Okoampa-Ahoofe, Jr., Date: 2010-08-12 23:48:31 (See: Comment to: "RE: "Kufuor continues to campaign for Atta-Mills" Feature Article of Friday, 13 August 2010, by Columnist: Boahene, Peter Owusu,) http://www.ghanaweb.com/GhanaHomePage/features/artikel.php?ID=188171&comment=5981856#com
So vehement was Okoampa-Ahoofe's attacks against the former President Kufuor, that I was even taken aback by the sudden change of attitude. Okoampa wrote an article insulting the woman who claimed to have had children with the fromer President. See: "Gizelle Yajzi/Yadzi Is An Arrogant, Glorified ****", Feature Article of Monday, 23 August 2010, Columnist: Okoampa-Ahoofe, Kwame. I even wrote in reaction:
"I know Kufuor is now like "Asantrofi Anoma" to you people, and you people are yet to make up
your minds whether to like him or hate him! The problem is you would want to use his records to win votes, but at the same time you want to distance yourselves from the numerous scandals!
Now, all of a sudden you appear to put a brave face on it because of the obvious repercussions on the integrity of Mr. Akufo-Addo, who may have to position himself on this scandal if it continues to grow. An uncomfortable situation indeed, so by all means Kufour has to be innocent!
What kind of political opportunism is this? It is good that, apparently, your attention has now been drawn to "moderate" your criticism of the former president, but that in itself must not make you swing to the other extreme end of the pendulum and begin to defend even what he did when he was naked and alone with a woman and you were nowhere around!! You are going too far, grandson, were you there in the room with him?
We all know you are a propaganda robot, but think before you write, and for Heaven's sake be consistent. Which of the Kufours you have been presenting do you want us to take?"
See: Gizelle Yajzi/Yadzi: Prikus Kufuorus Non Conscientum Habet! Feature Article of Wednesday, 25 August 2010, Columnist: Mensah, Nana Akyea.
http://www.ghanaweb.com/GhanaHomePage/features/artikel.php?ID=188924&comment=0#com
What I take away from all this is that Alan Cash needs to assert his leadership and save as much of the party as he can before it becomes one of the costs associated with the operation "at all costs". A leader needs to think for country, party, and personal role in all this.
This looks like a break or make moment. There is no doubt that he is dealing with an opportunist who would not hesitate to ditch him, so Alan Cash needs to urgently separate loyalty to the party from loyalty to Akufo-Addo, if indeed, he is the one who is to come! It is about time we saw some leadership and moved on!
For Life, the Environment, and Social Justice!
Nana Akyea Mensah, Ghana Steering Committee, P-AI, Social Media Campaigns | December 11, 2012
[email protected] | Pan-Africanist International - a grammar of Pan-Africanism and its manners of articulation! www.panafricanistinternational.org