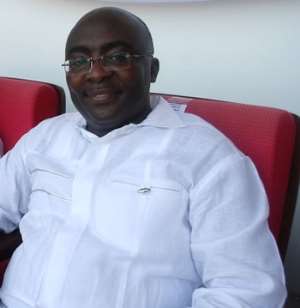 The family house of Vice Presidential candidate of the New Patriotic Party (NPP), Dr. Mahamudu Bawumia, is reported to have been ransacked by some men in military uniforms on Monday.
The men, according to the sister of Dr. Bawumia, Lariba Abudu, claimed they were looking for a man whom they suspected entered the house.
According to her, the uniformed men left when they could not locate the said individual.
Narrating the incident to Citi News, Ms Abudu said: "We were here around 1:30 when we heard some noise outside. So myself and my old lady we came out to see what was happening and we saw army men numbering about seven.
...We asked what was the problem then they came inside, went into the room and came out so we asked what the problem was and they said there was a gentleman who run in here so they are looking for him."
"We said we don't live here with any gentleman, there is no gentleman like that in this house. So they went round, looked round and they went out. They entered our room looking for this person that we don't even know," she added.