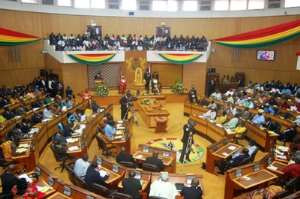 THREE OUT of five lawmakers described as 'Mugabes' of Parliament who have been in the legislature since the beginning of the fourth republic in 1993 have survived the December 7, 2012 election as they retained their seats.
Two of their colleagues however crashed out of the House.
The 'Mugabes' who retained their seats after 20 years in Parliament are Edward Doe Adjaho of Avenor/Ave, now representing the people of newly created Akatsi South; Alban Sumana Kingsford Bagbin of Nadowli West, now Nadowli Kaleo, and Alhaji Seidu Amadu of Yapei/Kusawgu.
Adjaho is currently the First Deputy Speaker of Parliament; Bagbin is the Minister for Health and former Majority Leader in Parliament whilst Alhaji Amadu is a former minister of state and currently the Ranking Member on the Public Accounts Committee of Parliament.
Indications are that these three NDC big shots would continue to represent their people in Parliament as long as they contest and win the party's parliamentary primaries because of their performance in both the legislature and their respective constituencies.
The two who are crashed out are John Akologu Tia of Talensi and Kwajo Tawiah Likpalimor of Kpandai, Minister of State at the Presidency who lost their seats to New Patriotic Party (NPP) parliamentary candidates Robert Nachinab Doameng Mosore and Matthew Nyindam respectively.
John Tia, a trained journalist, a former Information Minister and Deputy Majority Leader in Parliament, polled 9,119 as against NPP's Mosore who obtained 11,380.
The former Minister for Information had always won the Talensi seat in the Upper East Region comfortably for the NDC, representing the people in the area for five consecutive terms until his defeat in this year's general elections.
He was elected into Ghana's Parliament in 1993 where he rose through the ranks, becoming the Minority Chief Whip, Deputy Majority Leader and a Member of the ECOWAS Parliament.
According to media reports, the defeat of John Tia was said to be imminent as some of his constituents and members of the NDC reportedly kicked against his re-election bid, claiming their MP had occupied the seat for too long.
However, the MP told Joy FM that until the electorate said otherwise, "there is no limit to being a Member of Parliament".
"In NDC, we have stated that no one should be impeded in his bid to want to represent the party; so if some people are sitting somewhere and they are saying that the MP shouldn't contest, I want to ask this, a rhetorical question, what authority do they have, what right do they have to make that kind of call?" he wondered.
Similar reasons, according to NDC supporters, accounted for the defeat of Kpandai MP Kwajo Tawiah Likpalimor who party faithful indicated should have gracefully stepped down during this year's parliamentary primaries after representing his people since 1993.
Likpalimor is currently a minister of state at the presidency and who had been Principal Superintendent of the Ghana Education Service and a tutor at the T.I. Ahmadiyya Secondary School, Salaga.