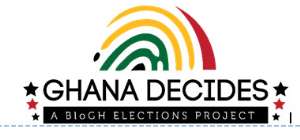 Ghana Decides officially outdoor two new campaigns Monday, 17 September 2012, geared at further furnishing the political space with conversations from young Ghanaians. The campaign, which has been put together by the Ghana Decides Video Team, is dubbed the Ghana Decides Tag.
The Head of the Video Team, Mr. Gameli Adzaho, said his team is "trying to encourage more political conversations among the Ghanaian online community, especially with regards to the upcoming 2012 general elections. He added that the Team "wanted to create the platform for more interaction between Ghanaian youth at home and those abroad through the power of social media. [We] observed that Ghanaian "netizens" are already having such conversations through the ongoing Ghana Tag on YouTube. We're only adding the political, governance, and development dimensions to the Ghana Tag."
Participants in the Tag are required to make a video responding to five questions from a pool of questions put together by Ghana Decides, and post their videos online. They then tag three or more of their friends to do the same. The campaign is expected to create a chain reaction where one person's involvement leads to other friends joining up. Read more about the campaign.
The Team has embarked on another campaign called Speak Ghana. According to Mr. Adzaho, "co-opting the idea of speech bubbles, participants are expected to write their thoughts on a printed speech bubble, take a picture of the bubble or photograph themselves holding the speech bubble and post it online (on Twitter , G+ with #SpeakGhana & #GhanaDecides)". The Speak Ghana project was put in action at the recently held BarCamps in Tamale and Cape Coast. You can also post your Speak Ghana picture on the Ghana Decides Facebook page.
Write out your thoughts
Download the speech bubble below and share with Ghana Decides:
Ghana Decides Tag and Speak Ghana both follow the highly successful #iRegistered campaign which attracted many local celebrities and even got featured in international media. Ghana Decides is set to launch two other campaigns before the elections in December: "My Ghana is/I see a Ghana..." series and ultimately the "Get Out and Vote" Campaign.
Ghana Decides has offline components for each of the campaigns for interested organised groups. Please contact as if you require assistance in participating in the Tag or Speak Ghana, but lack the required equipment, by emailing us at [email protected] and we'll make arrangements for coverage.
Ghana Decides - A BloGh Election Project is supported by STAR-Ghana with funding from DFID, DANIDA, EU and USAID. The non-partisan project also aims to educate the youth, civil society organisations and public institutions on the effective use of social media for social change and elections coverage.
BloggingGhana, a membership-based organisation, was founded in 2008. Its members use online social media tools to cover a wide variety of issues related to the country.